HERMANN MEUDT BETONSTEINWERK
Small traffic island made of standard corner curbstones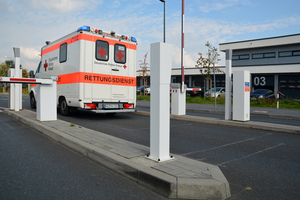 Figure: Hermann Meudt Betonsteinwerk
Barrier gate islands sometimes need to be very small
Figure: Hermann Meudt Betonsteinwerk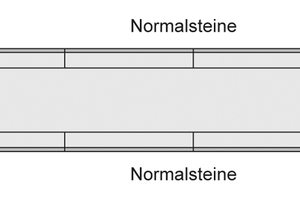 Figure: Hermann Meudt Betonsteinwerk
Traffic island width of 80 cm/end design with corners. Cast stones used: four complete outside corner high curbstones of 90 degrees
Figure: Hermann Meudt Betonsteinwerk
Special equipment is always used whenever it comes to systematic control of traffic in closed areas – such as the access to parking lots or parking garages. For this purpose, for example, barrier gate systems are very popular, because they are simple and place saving, and they only give access after legitimation. Since access and exit are generally placed directly next to each other, often right between them, there is a traffic island which serves to separate the lanes clearly. These islands also provide space for the equipment used for access control.
If standardized curbstones are used for the construction of such "barrier gate islands", the minimum width of the island will be 1 m correspondingly, because according to German standard the curbstone radiuses used at the island end start with 50 cm resulting in a semi-circle with a diameter of 1 m. However, in many cases the islands need to be smaller. Consequence of which is that the workers have to cut the curbstones to size to realize a traffic island of smaller width which often entails a lot of effort. This, of course, takes time and does not always obtain the result desired.
Adhesive curbstones
Betonsteinwerk Hermann Meudt located in Wallmerod provides two very good solutions which allow the realization of barrier gate islands with a width of only 80 cm without any cutting effort. The principle is quite simple: Small islands can be constructed in a simple way by intelligently combining of standardized corners of the curbstone product range. For the version with pointed end, two complete outside corner high curbs (HB 12/15 x 25) of 90 degrees are used on both sides (see Fig. 3). If the planner, however, prefers a rounded end design, alternatively the end can be constructed with one outside radius high curb (HB 12/15 x 25 R = 0.50m) each and two high corner curbstones (HB 12/15 x 25) of 90 degrees (see Fig. 4) each. These solutions can similarly be realized by curved curbstones. If even smaller islands are requested, it is possible to shorten the two outside corner high curbstones placed at the end a little bit for the pointed version. In this way, traffic islands can be designed in infinitely variable widths of 50 to 80 cm (see Fig. 5). The other longitudinal sides of the islands are designed with high curbstones or standard curved curbstones HB/RB (12/15 x 25) for all versions.
Moreover, the systems made by Meudt offer an additional advantage: Apart from the conventional installation method, the curbstones can subsequently be bonded onto an existing surface area too. For this purpose, the curbstones are cut already at the concrete plant to a precisely uniform installation height required. After cleaning the lane, a thin-bed adhesive method is used to apply two-component plastic to the asphalt or concrete lane on which the cut sides of the curbstones are bonded then. The cutting process carried out at the factory eliminates any differences in height which are otherwise occur due to conventional cutting, hence the stones are so to speak calibrated for the bonding process. As a result, dimensional tolerances are almost impossible.