Pfeifer Seil- und Hebetechnik
Section criteria for the right type of steel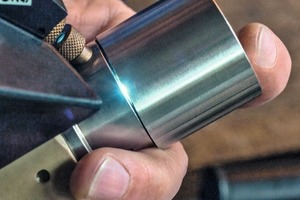 Figure: Pfeifer Seil- und Hebetechnik
Spectral analyses (Fig.), notch-bending tests and strength tests are ­conducted in the company's in-house laboratory
Figure: Pfeifer Seil- und Hebetechnik
Pfeifer has seen itself for many decades not only as a manufacturer, but also as a partner of its customers and not only offers the products themselves, but comprehensive knowledge of their use and application as well and is active in associations and standardization projects. This special knowledge of application and its implementation in the products has resulted in comprehensive documentation. The specific special requirements are individually defined for every new product and every incoming delivery of raw materials subjected to extensive in-house testing. Spectral analyses, notch-bending tests and strength tests are standard at Pfeifer and are conducted in the company's in-house test laboratory.
More than 2,000 types of steel
Today, there are more than 2,000 types of steel that, depending on their use, have special properties such as, for example, strength, corrosion behavior, deformability, or suitability for welding.
The steels are classified in accordance with EN 10020:2000 into the three main categories: "unalloyed steels," "stainless steels" and "other alloyed steels and special steels." Classification based on areas of application is especially helpful for users. Here, for example, a distinction is made between general structural steel, reinforcing steel, free-cutting steel, case-hardening steel, and other grades of steel.
Bearing capacity, durability and ductility
The proper choice of a material and the correct determination of its quality for the intended use massively influence the properties of the end product. Products for the construction industry, for example, must often meet defined criteria of bearing capacity, durability and the requirements on the ductility at defined temperatures. If the requirements on the bearing capacity are merely based on the use of steel, the definition of ductility, for example, is determined, rather, by looking at the advance warning of steel failure or behavior in low temperatures.
Importance for the construction industry
This is important in the construction industry and is necessary, because a possible failure of a connection in a building must be able to be recognized by a human being well in advance. For that reason, a product must assure appropriate deformations in case of excess loading. These requirements are, as a rule, additionally coupled to the requirements of durability and, accordingly, on corrosion protection.
In practice, these requirements must be defined, for example, in the delivery specifications of the processor of the steel. In these specifications, all relevant issues, such as mechanical parameters, material numbers, chemical composition, conditions of use, dimensions and tolerances, conditions at delivery and their attestation, for example, in form of a certificate.