Berding Beton
Safe landing due to heavy-duty pipes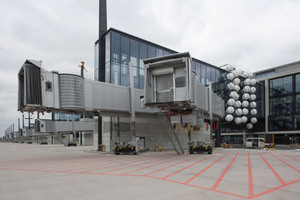 Photos (2): Robert Mehl
High loads have to be considered in particular at the apron of the terminal. Picture showing the BBI gate for the airbus A380
Photos (2): Robert Mehl
Airports are huge infrastructure projects that however require powerful underground structures in order to manage the airborne traffic successfully. Such underground structures were built at the German airports Berlin-Schönefeld and Halle-Leipzig.
In particular, pipelines running beneath the taking off and landing runways are exposed to transient extreme pressure impulses caused by aircraft movements, which may soon result in a pipeline break owing to an inappropriate design of the underground network. As a consequence thereof, the taxiway surface may even be damaged substantially. High-performance products especially designed by Berding for this purpose were used at the Berlin-Schönefeld and Halle-Leipzig airports.
Contrary to the scandal-ridden terminal building, the construction of the taxiway areas of Berlin-Schönefeld Airport and also that of Leipzig Halle Airport have been completed to a large extent in the meantime. Owing to the large amount of sealed surfaces, particularly at the airport, rainwater harvesting always plays an importance role. Therefore, the construction of sewers with storage capacity and the corresponding connecting structures were an essential part of this construction section. Since the apron serves as handling, maneuvering, parking and maintenance area after completion, the building structures had to withstand moreover extremely high loads.
Rainwater retention basins and sewers with storage capacity are used as flow balancing of precipitation water as well as for intermediate storage purposes. This protects the drain and the connected sewer system against overload. In principle, the hydraulic design always has to take a very high and partially very fast occurring run-off volume in heavy rain events into account. However, such heavy rain events generally have a very temporary nature. The installation of rainwater retention basins helps to minimize the construction costs due to a reduction of the sewer cross-section. The rainwater stored in this way can then slowly be returned to nature. For this reason, two sections at Berlin-Schönefeld were supplied with reinforced-concrete pipes of DN 2,000 and three connecting structures each with a single weight of up to 90 tons. In Leipzig, reinforced-concrete pipes of DN 1,600 - DN 1,800 were used as well as two intersection structures (weighing about 80 tons) as rainwater retention basins.
In both cases, the request for proposal stipulated all eight building structures in cast-in-situ concrete. The disadvantage of cast-in-situ construction is, however, that it is very time-consuming, dependent on the weather and thus quite expensive. But a predictable construction process was very important for the contractors. Expert advice provided by Berding's concrete experts from Linthe and Badeborn were able to convince the planners of the efficiency and quality achieved by using precast concrete components. In close cooperation with the technical office in Badeborn all building structures were technically designed so that these precast concrete components could be manufactured in panel construction according to quality guideline 2-2 of the FBS - German Trade Association for Concrete Pipes and Reinforced-Concrete Pipes. Another advantage for all parties involved was the fact that the building structures could be supplied including all interior fittings and integrated connecting sleeves for the pipes. Thus, a fast construction process could be ensured without long interruptions for the construction of the building structures. As the building structures are produced independent of weather conditions, the construction process was not threatened by awkward weather conditions. Of course, the high requirements on the concrete and the sealings (kerosene, de-icing agents and high dynamic loads) were met. At that time, the construction works were completed in due time satisfying all parties.