Berding
Open-trench sewer construction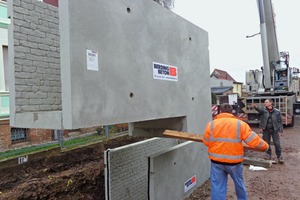 Figure: Berding
Customized precast elements from Berding Beton were used in the "­Waterlogging situation of the town of Ballenstedt" project
Figure: Berding
The sewer system in the small German town of Ballenstedt, which is situated at the rim of the Harz mountain range, is currently being replaced and expanded. The restructuring measure had become necessary as the old water pipes were rotten and, due to the high percentage of impervious surfaces, no longer able to cope with the increasing amounts of rainwater.
The town authorities commissioned the Quedlinburg-based Ingenieurbüro für Bauwesen (Consultancy for Construction Engineering) Lars Deuter to design the new concept and su-pervise construction. Dipl.-Ing. Lars Deuter stresses that it was important to him to not only offer a technical solution but to also make a creative statement. "The idea was to create an open design for the stream as water in a town never fails to have an enlivening effect," says Deuter.
The technical implementation was entrusted to Berding Beton. In close cooperation with the consulting firm, Steffen Adolphs and Lars Puchalla developed a system tailored to accurately fit the construction measure, comprising closed and open precast concrete elements and com-bining three immediate positive qualities: the precast elements are combinable, flexible, and cost-efficient.
Fully watertight
Mütze und Rätzel Bauunternehmen GmbH was in charge of construction which began in No-vember 2014. Directed by site manager Henry Raabe, the workers did a perfect job in laying the rectangular reinforced-concrete pipes over a length of 260 m and U-sections over a length of 195 m, and in completing two underground structures plus an open rainwater retention basin.
The rectangular reinforced-concrete pipes with a cross section of 1,000 x 1,000 mm were used for the covered sections. Wedge-shaped sliding seals combined with a transfer element for shear loads guarantee full, reliable tightness as well as permanent durability. The highlight of the project is the open flow of rainwater. The stream is now flowing through the town center over an uncovered length of just under 200 m. The U-sections with an effective length of 5 m, cross section of 1,500 x 2,500 to 2,700 mm and individual weight of up to 23 t have been en-hanced by textured facework.