ELBE DECKEN
Prestressed concrete floor slabs for 99 homes in
Berlin's Gropiusstadt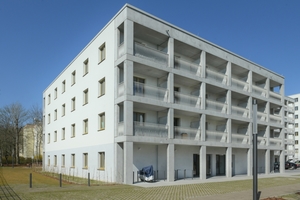 Figure: Dewego
In Berlin's district of Gropiusstadt 99 apartments of Degewo are built in serialized construction using prestressed concrete floor slabs
Figure: Dewego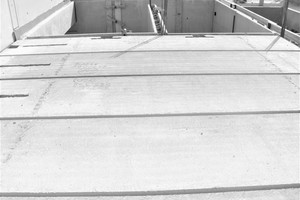 Figure: Elbe Decken
The prestressed concrete slabs were delivered by Elbe on schedule
Figure: Elbe Decken
The Degewo housing corporation has realized a modern residential complex with 99 apartments on an overall gross floor area (GFA) of 12,750 m² using a serialized construction method – rental prices start at approx. 6.50 euros/m² on average. One third of the apartments on Theodor-Loos-Weg in Berlin-Neukölln is permanently subsidized by public funds; the remaining 64 ones are privately financed rental units and can be rented without the need to present an accommodation entitlement certificate (Wohnberechtigungsschein). The three multi-family buildings erected in accordance with the KfW 55 standard have four to eight floors and an underground parking with 42 parking lots. Aboveground the building is designed as a slender prestressed concrete structure, which is implemented with the aid of floor slabs, which are tailor-made for the project and prefabricated by Elbe Delcon GmbH – Elbe Decken located in Vockerode. Prestressed concrete construction is a resource-conserving construction method saving a lot of material: in case of formwork by eliminating elaborate support structures and mostly also owing to hollows in the concrete slab itself as well as due to savings in reinforcement steel.
The implementation of the buildings was taken over by the Berlin-based Conex Baugesellschaft mbH. In spring 2020, after a construction period of less than 22 months, the tenants could move into the apartment houses built on a property covering approx. 7,900 m². The bright building complex with a clear geometry designed by Bolling + Fehlig Architekten and Bernrieder Sieweke Lagemann offers more than 6,867 m² of living space and 95 m² of usable floor space for a commercial unit, which has been rented to a bakery shop since June 2020. In addition to the underground parking, there are 16 additional parking areas in the outside area. Moreover, approx. 1,400 m² of movement and playing areas were created in the outside areas. The investment spent on the high-quality, but nevertheless cost-effective new building amounted to about €19 million.
Efficient processes thanks to serialized building elements
Featuring spans of up to 8 m, an overall floor space of 7,000 m² has been installed at the three new buildings. All stories up to the roof ceiling have been realized with prestressed concrete floor slabs, only basement and first floor were designed in solid construction. Due to the hollows, the prestressed concrete floor slab, in contrast to other floor systems, has a particularly low self-weight which can be up to 40 % below the standard of other construction systems. As the prestressed floor slabs feature a high load-bearing capacity simultaneously, large column-free spaces are created. The installation per story only takes a few days within the construction process.
"Installation with the prestressed concrete floor slabs went very well and smooth. It was an advantage that the precast prestressed concrete floor slabs were delivered by Elbe on schedule and could be installed immediately. Unlike in-situ concrete, no curing times of the floor surface had to be considered after casting, so that construction works could always continue immediately," reported Manuel Albert, Project and Site Manager of Bollinger + Fehlig Architekten.
For prestressed concrete construction, drilling templates are included in the delivery for the installation of electric cables. They ensure that the drill holes are made properly and the statics of the floor remains unaffected. Alternatively, it is however possible to spot-drill anywhere using especially short dowels which are recommended by the manufacturer.
Slender construction with prestressed concrete
Open floor plans for diverse target groups: The Elbe floor slabs for residential building were installed here, a slender type of floor slabs, being produced in different thicknesses and exactly dimensioned for the respective project. A minor thickness of 22 cm (type EFD 22) was used for the housing complex of Degewo. The wide spanning floor slabs allow for an open floor plan. In this way, different apartment types were created on a GFA of about 10,800 m², with one quarter being designed barrier-free: 36 one-room and 11 two-room apartments, furthermore 27 three-room and 24 four-room apartments as well as one unit with five rooms. Moreover, all modern apartments are equipped with spacious balconies and underfloor heating.
Björn Hammer, Team Leader at Degewo BauWerk: "Our housing construction project demonstrates that serialized construction offers various options. The prestressed concrete floor slabs are an example for efficient shell construction, which can be realized in a cost-effective way, providing a lot of flexibility for the later use of the building. We are very pleased that we have created a great quality of living at affordable rental prices, in particular, as far as the completion of the interior with its high-quality wooden flooring and the underfloor heating is concerned.
CONTACT
Elbe Delcon GmbH
OT Vockerode
Griesener Straße 32 a
06785 Oranienbaum-Wörlitz/
Germany
+49 34905 406-0