Liebherr-Mischtechnik GmbH
Precast plant commissions new mixing tower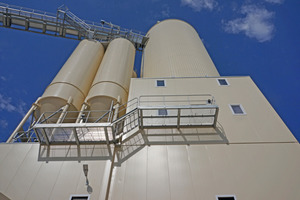 Photos (3): Liebherr
The Liebherr mixing tower featuring three different mixer systems supplies the Röckelein precast plant with concrete
Photos (3): Liebherr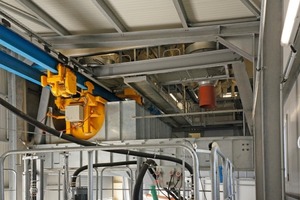 Photo: Liebherr
The concrete is delivered by the bucket conveyor below the mixer systems
Photo: Liebherr
The German company of Kaspar Röckelein KG has been well positioned with its concrete products in the market for over 65 years. The company offers its customers a wide range of products: from concrete goods to structural precast components through to complete solid homes.
In its Ebing production facility in the German state of Bavaria, Kaspar Röckelein KG has now commissioned a Lieb-herr mixing tower. The modern plant is fully integrated in the company's precast concrete production. The type Betomat IV-685 mixing tower can store 685 m³ aggregate in its ten silo compartments. The material is delivered to the mixing tower on an inclined conveyor belt from the company's own gravel plant. Around 600 tons of binder can be stored in the five silos; two silos are designed with two compartments. A total of seven different types of material can be stored in the system.
Durable and reliable
The plant is equipped with three Liebherr mixing systems. A type RIM 2.25 ring pan mixer featuring a mechanical agitator tool and two outlets mixes the concrete for floor slab production. The concrete is delivered to production by bucket conveyor or truck mixer.
The second mixer is a RIM 1.5-D (double-shaft mixer). It mixes the backing concrete for paver production and discharges onto the bucket conveyor. And the third mixer is a RIH 0.5 with hydraulic agitator for the facing concrete of the pavers. It discharges onto the bucket conveyor as well. All three mixers are equipped with a preliminary silo and separate cement and water scales for absolute flexibility.
The long service life of the plant is achieved not only through the high-quality components, but also the nearly completely galvanized steel construction. The entire plant was encased in plastic-coated sheet metal and insulated as well as provided with a heater to ensure smooth operation also in the cold winter months.
State-of-the-art technology and environmental protection
The Litronic-MPS III mixer control in the tower is also state-of-the-art. Additional functions for on-site operation allow easy and quick concrete scheduling in the production halls.
Exhaust air filters reduce dust emission and a type LRS 806 residual concrete recycling plant with an hourly perfor-mance of 12 m³ ensures comprehensive environmental protection. The recycling plant can process the residual concrete that occurs during cleaning of the mixing plant, the truck mixer or even waste concrete. An additional hydro cyclone removes particulate matter from the residual water so that the clean residual water can be safely reused for high-quality concrete types. The resulting savings in costs and materials is considerable.