ANKOX
Polyfleece SX 1000 Wall – Precast concrete elements with integrated surface sealing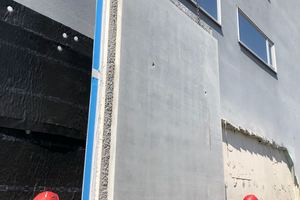 Figure: Ankox
The precast concrete elements with integrated Polyfleece SX 1000 Wall, including permanent formwork, are installed at the construction site quickly and without problems
Figure: Ankox
The advantages of sealing surfaces with the fresh concrete composite system Polyfleece SX 1000 Wall, which has been registered for patent approval, can now be used also in the precast concrete sector. The German surface sealing specialist Ankox from Magstadt, Germany, cuts the sheets to the desired length; as a rule in accordance with the height of the wall.
 "The FBV-System Polyfleece SX 1000 Wall, thanks to its properties, including its ability to prevent water ingress from behind, solid bond, flexibility, ruggedness and self-healing capability has by now became established and proved effective as surface sealant in in-situ-concrete constructions worldwide," according to a press release by the manufacturer. The product is now available for use in precast concrete plants as well.
Precast double-wall constructions function quite well in combination with a carefully cast in-situ concrete core, provided no damage occurs to the outer or inner shell, according to Mark Weichert, Head of the Development Division of Ankox. However, practice has shown that the shells of precast double walls are susceptible to damage during transport and handling by crane. Water can later ingress into the construction. An integrated sealing membrane would prevent this from happening from the outside.
Minimizing risks
Precast double walls are frequently used in limited spatial conditions. The joints are later no longer accessible in the cramped construction pit. Special-purpose panels with permanent formwork and integrated Polyfleece SX 1000 Wall makes subsequent sealing steps unnecessary. The FCC system, in combination with these special-purpose joint sealing panels, prevents moisture from wandering through the three-layer precast double-wall construction and cause problems inside. "This is why the idea is so attractive," says Ankox Manager Weichert.
The production process comprises only a few steps: The sheets are placed on the formwork table in the precast plant; the joint seams are also lapped in the plant. Subsequent cutouts, e.g. for windows, are measured onto the sealing membrane by laser and marked. In the next step, the reinforcing mesh is placed directly onto the sealing sheet. After that, first the outer and then the inner shell of the double wall is cast in the plant.
Processing at the construction site then proceeds rapidly and without any problem. As soon as the walls are in place and the core cast, the butt joints are sealed with strips of the Ankox 2K-SX 1 sealant adhesive X 1, provided they are easily accessible from the outside. The subsequently difficult to access joints are sealed with the special-purpose Polyfleece SX 1000 wall panels (permanent formwork with integrated FCC membrane). For additional sealing integrity, the  predetermined cracking elements of the Ankox sealing engineering Premium Line are installed in the (AquaproofX 1 SRE, MegaproofX 1 SRE).