H-Bau Technik
Optimized connection between steel and concrete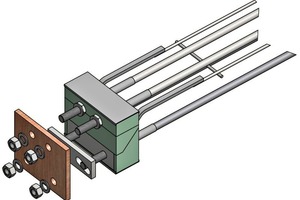 Figure: H-Bau Technik
Isopro Type SBM structurally connects freely cantilevered steel constructions with concrete construction elements
Figure: H-Bau Technik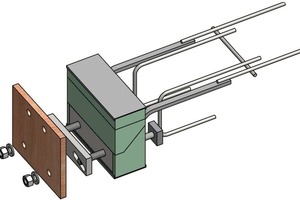 Figure: H-Bau Technik
Isopro Type SBQ is equally user-friendly and thermally insulating for supported connecting constructions
Figure: H-Bau Technik
Connection elements for connecting steel girders to reinforced-concrete elements should be easy to install and precision-fixed. At the same time, cold bridges for different actions and loading stages have to be minimized. The new Isopro thermal insulation elements for freely cantilevered and supported girders from H-Bau Technik GmbH, Klettgau, Germany, are the solution to the current challenges of structural design and construction execution.
National technical approval Z-15.7-313 for Isopro Type SBM and SBQ connections was granted by the German approval body for construction products and types of construction Deutsche Institut für Bautechnik, Berlin, on 21 May 2014. Therefore, designers and contractors as of now have at their disposal innovative thermal insulation elements that take dimensional tolerances into consideration from the very start and equalizes them with a newly developed adjustment plate.
Loadbearing and in ­conformity with EnEV
Isopro Type SBM structurally connects freely cantilevered steel constructions with concrete elements. Depending on the type, both positive and negative bending moments as well as shear forces and horizontal forces are transmitted. When used with pin-ended connection constructions, i.e. supported steel girders, however, the connection transmits exclusively positive shear forces and horizontal forces.
The elements tested are not only distinguished by their very high loadbearing capacity, but meet, moreover, the stringent requirements for thermal protection of DIN 4108-2 and the current German Energy ­Savings Ordinance. The connection ­elements consist of an EPS ­thermal insulation body of 80 mm thickness with the low thermal conductivity of l = 0.031 W/mK.
User-friendly installation
In developing the product, great stock was placed on user-friendly installation, in that the head plates, provided by the client, can be simply slipped on and screwed onto the connection elements. Vertical tolerances between the concrete floor and the desired girder arrangement can be infinitely equalized via elongated holes.
This solution is provided by all types of Isopro thermal insulation elements Type SBM and SBQ. Both types are available in heights between 180 and 280 mm.