Low & Bonar
New concrete laboratory in Zele in Belgium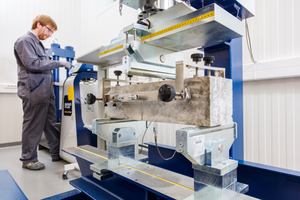 Figure: Low & Bonar
Products like these concrete beams can now also be tested in-house, based on international standards
Figure: Low & Bonar
Low & Bonar has opened a new laboratory for its Adfil product brand – a line of high-performance concrete reinforcing fibers – in Zele, near Ghent in Belgium. The new lab will test both existing products and develop new reinforcing fibers for the construction industry.
The laboratory is outfitted with instruments for testing fibers in accordance with EN and ASTM standards, both in fresh and in hardened concrete. Construction of the laboratory is part of the growth strategy of Low & Bonar. This strategy includes investment in future markets and closing market gaps with a range of products and service offers.
In-house product tests based on international standards
Global Business Leader Tom Winters comments: "We would like to offer the best microfibers on the market. Toward this objective, we have strengthened our team of concrete technologists and technical sales personnel. We have furthermore expanded the technical capacities of our production facilities and enlarged our production capacity over the past 24 months. Our Development Department carries on work involving a range of new reinforcing fibers. With the laboratory, we can also now carry out feasibility studies in-house, which will shorten the time to market." A construction engineer and an industrial engineer are responsible for the new laboratory.
"The fact that we are now able to test products in accordance with international standards enormously facilitates the development of fibers for new applications," explains Özlem Aslan, Development Engineer and Project Manager. "In existing segments – such as for reinforcement applications in ground slabs or industrial floors – the laboratory will aid us in continuously improving product performance and user-friendliness of the fibers. Concrete manufacturers, planners and construction companies will profit in that we enable them to test fibers for individual concretes mixes in our facilities. This will help them to emphasize the advantages of reinforcing fibers in their offers."
More construction projects with reinforcing fibers
The new building, which also includes offices, is located on the premises of Low & Bonar, adjacent to the production hall, where the company manufactures fibers and nonwovens. "The possibility alone of carrying out an extensive range of tests, thereby offering customers additional technical service, is unusual in our industrial sector. Concrete is the most often used construction material around the world. When steel reinforcement mesh is replaced by microfibers, everyone in the value-added chain profits – from planners to builders. The new laboratory will significantly contribute toward enabling execution of more and more construction projects with reinforcing fibers," concludes Winters.