KTI Plersch
More than 2,800 plants already installed all over the world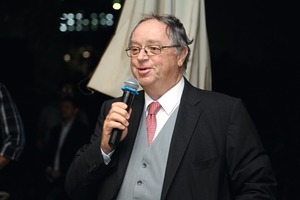 Figure: KTI Plersch
Rupert Plersch welcomed the participants of the KTI Innovation Days
Figure: KTI Plersch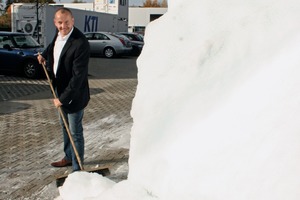 Figure: BFT International
The new Managing Director, Andreas Eyd, is neither afraid of big tasks, nor huge icebergs
Figure: BFT International
In the context of the KTI Innovation Days, KTI-Plersch Kältetechnik GmbH has recently opened the factory gates to customers, representatives from politics and media as well as interested visitors to get an insight into the company. As one of the world's leaders in concrete cooling and heating systems, the company welcomed their partners to the KTI Innovation Days 2015 at the group's headquarters in the Southern German town of Balzheim. In his welcoming speech, the Managing Director, Rupert Plersch, pointed to opportunities as well as challenges for KTI and expressed the strong relationship with the business partners and friends; he also emphasized that it was only through this support that the company had been able to attain today's strong market position by continuously growing. More than 100 visitors seized the opportunity to take a tour through the production facilities as well as the research and development department. Particular importance was placed on an extensive exchange of information, from design to after sales services, from the local business to global markets.
"With the experience gained over many years, KTI has specialized in supplying turnkey solutions for individual customer requirements without any hidden costs," Plersch proudly announced. "So far, we have installed more than 2,800 plants all over the world."
Innovation Days with live demonstrations
Several live demonstrations delivered the visitors an insight into the various system concepts and functions. The eye-catcher of the Innovation Days was undoubtedly the ice melting with Turbo and the specially designed Ice Bar. The main focus of this year's in-house exhibition aimed at presenting several innovations from the wide range of KTI cooling units as well as heating units from Sauter.
The KTI Greenline Chiller, for example, offers an environmentally friendly cooling concept along with an economic design and efficient production process. The combined flake ice plant FLIP and the transportable ice storage TIS are further key products. The new silo heating system OLH from Sauter Plersch is generally suitable for all types of silos. The Sauter Turbo, as the bestselling heating product at present, has been especially designed for customers with major focus on cost awareness. The advantages of this system are the generation of hot air and hot water with only one burner, providing for concrete hardening with hardly any loss.
The next KTI Innovation Days will take place in 2017.
Integration of Sauter Plersch AG well on track
KTI has also announced that the full integration of Sauter Plersch AG will soon be concluded. "We now start a completely new production line for our heating systems here at our headquarters in Balzheim; therefore, we have also built a new production and administration building. This will help us design more suitable solution for temperature control in various industrial applications. Nevertheless, we will continue with our Sauter facility in Switzerland as a sales and service unit," states Andreas Eyd, Managing Director at KTI since July 2015. "We will show presence, above all, at the big international events, such as the BetonTage congress in Ulm, at Bauma in Munich, the World of Concrete in Las Vegas or the Big5 trade fairs in Jeddah and Dubai, in order to convince our present and future customers of our extended product portfolio and the new service concept. Even hardships such as the recently declining Russian market or the unfavorable exchange rate of Swiss franc to euro were not able to disturb our successful track."