Franz Ludwig
Moisture measurement with FL-WAPP for Industry 4.0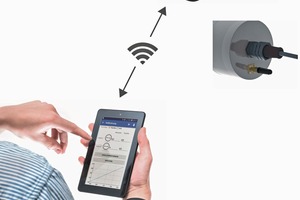 Figure: Franz Ludwig
FL-WAPP 4.0, Intelligent networking of moisture measuring sensors for industrial processing of bulk ­aggregates
Figure: Franz Ludwig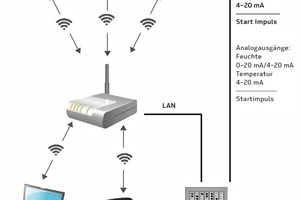 Figure: Franz Ludwig
Implementation possibilities of the WAPP sensor into the operation control
Figure: Franz Ludwig
On the occasion of the ­Bauma Munich 2016, a new sensor generation was presented at Ludwig's stand, setting new standards in online moisture measurement of bulk aggregates and for mixing processes.
The unique and actual major reason of the sensor FL-WAPP / Industry 4.0 is the parameterization via independent mobile devices enabled by the Access Point (website) implemented in the sensor's electronics (Fig. 1). A cost-free app is available for smart phones with Android operation system as well as a version for tablets using Windows. The output signals are provided as analog signal but can also be transmitted digitally. The linear output is free to be parameterized; even a control valve can be connected.
Continuous water dosing
This enables a continuous water dosing with mix or production processes 'in dependence of material moisture'. The control signals are supported as analog output signal but can also be transmitted by WIFI via UTP protocol (Fig. 2).
Through its high calculation speed, the sensor is predestined to evaluate highly accurate data for the operation control even with severe conditions as the processing of small batches in mixers or discharge problems at the aggregate material silo.
WLAN technology allows safe operation/parameterization outside hazardous areas. Mounting in difficult places or at high heights with regard to the communication with the sensor is no longer a problem. An extensive favorite list with preset calibration curves is available for rapid starting-up (Fig. 3). In addition, the sensor is able to detect the temperature of the measuring medium quickly and precisely.
Very easy handling
The FL-WAPP sensor is very positively assessed by the service personnel and the plant construction companies thanks to its easy handling during parameterization and integration into new or existing systems. It is also technically compatible with all common humidity sensors. The microwave measuring method, which has been tried and tested for many years, is the technological basis and operates in the frequency range of 433 MHz. The dielectric constant of water takes advantage of its permittivity number μr 80. This number indicates the extent to which electric fields are spreading in materials. Due to the high permittivity of water, the microwave measuring method is predestined to determine the moisture content of bulk aggregates. Different medium and ambient temperatures have no influence on the precision of the described microwave measuring method.
Continuous free updates
When using this technology, the customer benefits from continuous free updates of the latest software developments and the efficient use of the measuring sensor meets the increasing demands on measuring and plant engineering. Within a short period of time after its presentation in spring 2016, the sensor is in use in differentiated industries in a wide range of applications worldwide providing perfect results.