HTWK Leipzig
Million-euro grant for research project: Leipzig University of Applied Sciences develops multifunctional, standardized carbon-reinforced concrete components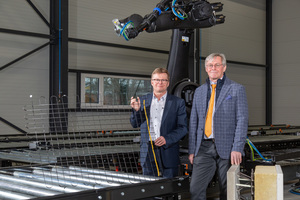 Fig.: Maximilian Johnson/HTWK Leipzig
Prof. Tilo Heimbold (left) and Prof. Klaus Holschemacher with a carbon reinforcing mesh with integrated AS-Interface cable at the carbon-reinforced concrete pilot facility of HTWK Leipzig
Fig.: Maximilian Johnson/HTWK Leipzig
Carbon-reinforced concrete can make a major contribution to climate-friendly construction because, unlike the widely used steel-reinforced concrete, this new building material saves resources such as sand and cement and has a significantly smaller carbon footprint. In addition, this new type of concrete provides many options for state-of-the-art construction. For example, heating systems and electrical services can be integrated into walls made of carbon-reinforced concrete. Researchers at Leipzig University of Applied Sciences (HTWK Leipzig) are collaborating with industry partners in two new research projects in order to evaluate how such applications can be transferred to industrial scale.
Multifunctional sample components to become industry standard
An alliance comprising 15 partners from the German states of Saxony and Saxony-Anhalt intends to develop sample components made of carbon-reinforced concrete that are connected to various thermal systems in the "Industrial Standard for Carbon-Reinforced Concrete (ISC)" project. One of these partners is the Research and Transfer Center (Forschungs- und Transferzentrum; FTZ) affiliated with HTWK Leipzig, which has been providing an important link between the university and the regional economy since its establishment 25 years ago.
The FTZ researchers involved in the project are developing elements for integrated wall and panel heating systems. "Various conditions must be met for thermal systems to be integrated into building components. The electrical use of carbon is a novel application not yet governed by codes and standards. There is no experience in this regard, which is why this needs to be explored in a wide variety of applications," says Tilo Heimbold, professor of electrical engineering at HTWK Leipzig and academic director of the FTZ. In addition, the FTZ researchers are analyzing the energy efficiency and safety of all sample elements produced in the project while also developing standardized, automated manufacturing processes for the components, testing their electromagnetic compatibility at the FTZ's own EMC facility and compiling the findings in a set of technical rules.
This three-year research project aims to develop an industry standard for semi-precast carbon-reinforced concrete components in order to accelerate the transition to construction methods that use this new type of concrete. To achieve this goal, the consortium will receive about 8 million euros from the German Federal Ministry of Research starting in January 2022 under the "Rubin" innovation and structural change program. About 840,000 euros were allocated to the FTZ.
Components use integrated AS-Interface data communication standard
In another new project, researchers at HTWK Leipzig are integrating data and power lines into carbon-reinforced concrete components based on the AS-Interface industrial communication standard. Since the walls of houses built with this material are very thin, they do not provide much space for the large number of lines and cables that would otherwise be embedded in the wall. Cables, ducts and boxes should thus be reduced in number and size as early as in the construction and installation phase.
"Through AS-Interface, numerous sensors and actuators communicate with each other via one and the same cable. They even draw their required power via this line, which reduces material consumption and makes the system extremely robust and fail-safe," explains project manager Heimbold, who has been contributing to the development of AS-Interface for about 30 years. Nowadays, this technology is used in millions of places worldwide and enables automated processes in airports, factories and buildings. Heimbold adds: "AS-Interface is mainly used in industrial environments. In our research project, we want to make the benefits of this technology available for residential and office buildings as well." This is why the project includes the manufacture of sample precast carbon-reinforced concrete components for an office wall panel.
These elements are produced at the new carbon-reinforced concrete pilot facility of HTWK Leipzig. Klaus Holschemacher, professor of concrete construction, explains: "We have been conducting research into this new building material for several years. In our new testing facility, we will be demonstrating the fully automated production of carbon-reinforced concrete components on a pilot scale."
For the "WallConnect" project, the German Federal Ministry for Economic Affairs provides research grants in the total amount of about 1.5 million euros until spring 2024 under the "Lightweight Construction" technology transfer program. One third of this amount was allocated to HTWK Leipzig.
CONTACT
HTWK Leipzig
Forschungskommunikation
Dr. Rebecca Schweier
Karl-Liebknecht-Straße 132
04277 Leipzig/Germany
+49 341 3076-6385