BT INNOVATION
Magnetic objects of individual shape from additive
production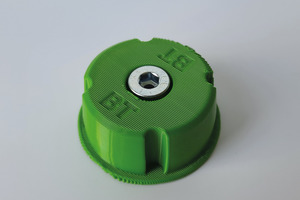 Figure: B.T. innovation
Adapters for electrical boxes screw-fastened to suitable magnets for fixing-in-place blank boxes made by the MEX method from additive production
Figure: B.T. innovation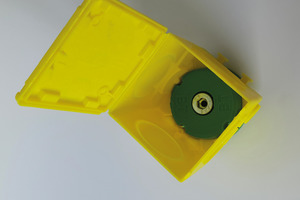 Figure: B.T. innovation
Adapters of individual shape screw-fastened to suitable magnets for fixing-in-place blank boxes
Figure: B.T. innovation
The demands placed on precast elements are increasing from year to year and are continuously becoming more complex. One indication of this is the growing number of a range of embedded parts that are installed by precasting plants. In this segment, every precaster has its own individual solutions, with the result that tremendous amounts of time and quantities of materials are required for production. B.T. innovation GmbH would like to relieve its customers precisely of these expenditures and take over the manufacture of these individual solutions: to be faster, more cost-efficient and more resource-conserving.
In most cases, in-plant solutions consisting of wood or synthetics are used for installing embedded parts; for fastening them, gluing methods are frequently used. The manufacture and use of these fastening methods require enormous amounts of material and time expenditure. The results, too, often do not satisfy the requirements, since manually manufactured solutions vary and therefore do not provide a uniform result. These methods have frequently been developed over long historical periods and have not been questioned for many years. Here, B.T. innovation GmbH offers to pick up on the customer's solutions and implement them in ways that are cost-efficient, resource-saving and efficiency-enhancing.
Magnetic objects from additive production
B.T. innovation GmbH offers a comprehensive service for manufacturing these sustainably more economical, resource-conserving and efficiency-enhancing solutions so that the customer's individual solutions will become a serial product of consistent quality. With the aid of the MEX method of additive production, the company is able to manufacture objects of individual shapes that correspond to the dimensions and shapes specified by the customer. With this technology, nearly all special solutions can be realized with the individual customer within hours and can be manufactured in small series. This technology offers a great diversity of applications, such as blockouts for anchor systems and adaptors for blank boxes and pipes.
The combination of these objects with high-performance magnets from B.T. innovation GmbH enables various advantages for the user. The use of magnetic objects offers great savings in time. No additional tools are needed for installation and no glue residues must be removed upon detaching. The combination of objects with high-performance magnets can be repeatably used. Once an object has reached its wear resistance, it can be easily replaced and the magnet used further. This possibility offers considerable savings in resources as well as costs and is furthermore more ecological, because long service life produces little waste. The more cost-efficient, resource-conserving and efficiency-enhancing service of B.T. innovation GmbH therefore pays off already with its acquisition – and much longer with continued use of the magnets.
CONTACT
B.T. innovation GmbH
Sudenburger Wuhne 60
39116 Magdeburg/Germany
+49 391 7352-0