SCHÖCK BAUTEILE
Isolink wins German Innovation Award 2021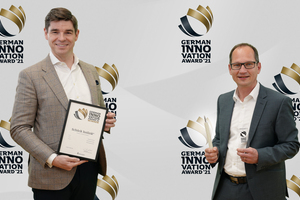 Figure: Schöck Bauteile
Mike Bucher (Chairman of the Executive Board) and Werner Venter (Product Manager of Isolink) are pleased about the special award
Figure: Schöck Bauteile
Schöck Bauteile GmbH, as a pioneer not only in thermal separation of construction elements, regularly draws attention with significant innovations that leave a lasting impact on the construction industry. With the prestigious German Innovation Award 2021 for the Isolink Schöck façade anchor, the company's innovative strength was again confirmed. The jury of independent interdisciplinary experts assessed the entry based on the criteria degree of innovation, value for application in practice and economy. Schöck Isolink convinced as a thermal-bridge-free solution for mounting back-ventilated curtain façades. The construction satisfies maximum requirements on energy efficiency and, moreover, opens up new freedom of design to architects.
The German Innovation Award is presented to cross-industry products and solutions that stand out in particular by their user-centered design and the added value they provide over previous solutions. By presenting the 2021 Award, the jury honors the Type F Schöck Isolink as outstanding innovation performance. It chose the product as winner in the Business-to-Business competition class in the category Building & Elements. "With Isolink we have created an innovative product for progressive and environmentally friendly building. The German Innovation Award 2021 is a great tribute to the important contribution this detail solution provides for fixing-in-place and aesthetic design for back-ventilated curtain façades. Here energy efficiency, sustainability, economy and optical effect are uniquely combined" says Mike Bucher, Chairman of the Executive Board of Schöck AG.
Innovation as part of corporate philosophy
Based on the vision of the founder of the company and inventor Eberhard Schöck to make building more modern and better, innovation at Schöck Bauteile GmbH has been an actively implemented element of corporate philosophy. The focus of the company is on the development and manufacture of products with high building-physics benefits and special material and installation properties in response to the current requirements of the industry. The manufacturer's ingenuity and inventiveness also set international standards. The Schöck Isokorb, for example, has by now become a generic term for thermal separation of building components. Modern innovation management promotes the development of new ideas and ensures the creation of successful products.
Schöck Isolink Type F – innovative materials intelligently combined
With the Isolink product family for calculated mounting of façades without thermal bridges, Schöck has extended its portfolio of applications in the area of thermal separation. The award-winning Type F Isolink, the high-strength and thermally insulated Schöck Combar glassfiber reinforcement bar, is used in combination with a threaded connection of stainless steel. Thanks to this energy-efficient solution for anchoring back-ventilated curtain facades in concrete or masonry, problems such as energy loss, damp walls and mold growth are things of the past. Another benefit of Schöck Isolink is its economy. Due to its low thermal conductivity, the thickness of the thermal insulation can be reduced. The easily installed rod-shaped façade anchor moreover ensures optimized workflows at the construction site and can be also integrated, for example, in energy-efficient rehabilitation of existing façade systems.
Schöck Isolink opens up new freedom of design to architects and planners for slender façades that moreover enable better utilization of available floor space.
Isolink is certified by the Passivhaus Institute and is rated at phA+ – the highest classification. In addition, it is approved by the German approval body for construction products and types of construction (DIBt). Furthermore, the Bauen und Umwelt Institute (IBU) recently issued for Schöck Isolink and for Combar the Environmental Product Declaration (EPD). According to its own information, Schöck is currently the only manufacturer, with an EPD for façade mountings and is therefore able to provide architects and planners with the verified eco-balance required as proof of sustainable building.
CONTACT
Schöck Bauteile GmbH
Vimbucher Str. 2
76543 Baden-Baden/Germany
+49 7223 967-0