Kobra Formen
How a mold is made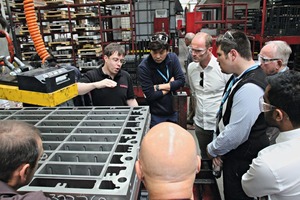 Figure: BFT International
Divided in several groups, the visitors went through seven production halls stopping at eight stations giving ­information on special subjects such as jet cutting, milling, coating and others
Figure: BFT International
In September, about 100 people participating in a factory tour at the Lengenfeld facility of Kobra learned how a Kobra block mold is made. Prior to this, the experts from all over the world had attended the ICCBP - International Conference on Concrete Block Pavement; for the distance of approx. 130 km from Dresden they took a bus to arrive there.
Holger Stichel, general manager of Kobra, welcomed the participants, giving an outline of the company history first (see this page 54 "Kobra – the company") as well as the products and the quality standards. Stichel is especially proud of the company's innovative strength. According to him, this is not least proven by 86 patents in 140 countries throughout the world.
10,000 tons of steel per year
After the reception the participants were divided into several groups, which were each shown around the mold production by a staff member of Kobra. In the now seven production halls, the groups stopped at seven stations in total: First station was the outside storage yard for steel which is used by the workers of Kobra to make the molds. The steel consumption at Kobra amounts to approx. 10,000 t per year.
Then the participants learned everything about the different methods of cutting and hardening on the second station. Kobra is cutting the steel in four different ways – by means of a saw, a flame cutter, water jet or laser. Three furnaces are available for the hardening process, providing for hardness qualities of 68 HRC and 64 HRC, respectively. An additional nitrating furnace provides for a hardness of 700 HV10.
5-axis milling
In hall three the stations of in-process quality inspection as well as water jet cutting and steel bending were next up on the agenda. In hall five Kobra presented to the visitors the machines for grinding of the surfaces as well as the equipment for the 3-axis and/or 5-axis milling of the molds.
Passing the work areas for repair, manual works and milling of the tampers, the groups reached hall seven where final assembly and final inspection take place.
"That is very impressive," stated Francois Maritz, quality manager at Bosun, the South-African manufacturer of concrete products, when talking to a BFT editor after the factory tour. "We are producing with molds of Kobra and the quality of our blocks is really great. It is a good thing to see the high standards and the passion of mold production once on site."