Primo
Electrical installation work – more quickly and easily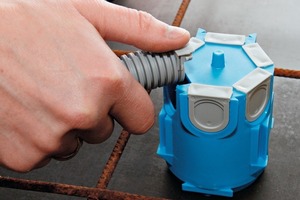 Figure: Primo
The toolless Quick-Fix system: clipping in the conduit flush to the box wall and closing the box, safely preventing concrete penetration
Figure: Primo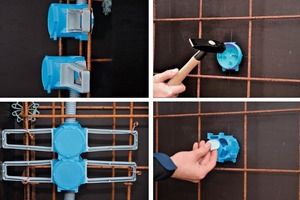 Figure: Primo
Flexible installation: fixing the box to reinforcement or formwork using added "wings"
Figure: Primo
Many electrical contractors in the construction sector are currently enjoying an exceedingly solid order backlog. However, this situation also leads to more demanding requirements in terms of scheduling and adherence to specified completion dates. "We are fully booked three years in advance already," says Tobias Keller, assistant to the Managing Director of ETech Elektrotechnik oHG.
Since 1990, this Frankfurt-based electrical installation business has been involved in new construction and refurbishment projects both nationally and internationally. It achieved significant time and efficiency gains by using Primo installation components. Formart GmbH & Co. KG regularly commissions ETech with installation works for major projects; ETech was also one of the companies contracted with the extension of the ESOC, the satellite mission control cen-ter operated by the European Space Agency (ESA). Last year, two new, energy-efficient office buildings were completed to complement the complex of existing buildings that was constructed in 1967. "For these buildings, we took on electrical installation works for concrete components in spring 2014, and we installed no fewer than 1,500 Quick-Fix Primo junction boxes," explains Volker Gugel, Managing Director at ETech.
Suitable for formwork and reinforcement
Unlike conventional boxes, Quick-Fix boxes do not require bearings or supports, which eliminates the need for the tedious step of cutting boxes to size to match the concrete cover. The box cover can be nailed to any type of formwork, clinched to its surface using a pneumatic tool, or glued. In the absence of formwork, or to make assembly more flexible, "wings" can be attached to either side of the box to fix it to the reinforcement using tie-wraps or wire.
The prime feature of the Quick-Fix system that saves a huge amount of time whilst ensuring easy installation is its option to create conduit connections without tools. Openings for conduit connections usually need to be inserted using punching pliers or a conical drill. By contrast, Quick-Fix boxes include six prefabricated openings for connections and do away with tedious drilling or use of pliers. This is why no heavy tools are necessary, such as cordless screwdrivers or power drills and cable reels.
The required connection openings make it possible to "clip in place" M20 and M25 isolation conduits flush to the box wall using Quick-Fix slides. Since these openings are located in the rear part of the box, they provide ample space for cable connections, which facilitates subsequent wiring.
"Clipped in place" flush to the box wall, preventing concrete penetration
Milling of connection openings is not only time-consuming but can also compromise the snug fit of the conduit end and tightness of the entire connection. "The worst case would be if concrete penetrated into the box and conduit," says the assistant to the Managing Director of ETech, Tobias Keller. Quick-Fix boxes ensure a firm and tight conduit connection with reliable strain relief whilst preventing concrete penetration by the "clip-in-place" design chosen for conduit ends and slides. Unused openings are secured against concrete penetration by blocking slides.
The Quick-Fix system ensures accurate conduit fit and thus also eliminates time-consuming rework that is often necessary because conduits are pushed too far into the box casing, thus blocking the cable connection space. This is why there are no longer obtrusive conduit parts that would otherwise have to be cut off using a knife or bent-nose pliers after breaking loose the boxes. For these reasons, Tobias Keller, of ETech, has nothing but praise for this system: "We have tried many systems, but none of them is as quick and easy to install as the Quick-Fix solution provided by Primo."