KLEIHUES BETONBAUTEILE
Dimensionally stable precast elements thanks to 3-D laser scanner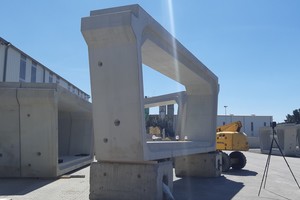 Figure: Kleihues
In order to measure the entire construction element, a laser beam is emitted from several measuring points around the object
Figure: Kleihues
Building with precast elements is currently the trend. Compared to conventional in-situ concrete construction, construction processes of this kind can usually be considerably shortened. Here, the dimensional stability of the construction elements is of significant importance. The elements must fit together one hundred percent to ensure smooth erection. Therefore, manufacturers take great pain to achieve the required dimensional stability by precise measuring in all phases of production. Measurements for smaller-size and simply constructed precast elements can still be done with measuring tape or folding rule, but this again and again poses problems for manufacturers when large-dimensioned or complex construction elements are involved. To achieve the greatest possible dimensional stability for precast elements, the company Kleihues Betonbauteile from Emsbüren in Germany uses a new state-of-the-art measuring system – according to the manufacturer, unique until now in the industry – for in-house production and construction element monitoring.
"To demonstrate precision fit of our construction elements we were until now forced to measure the precast elements in a highly complex process," declared Tobias Janning, Project Manager of Kleihues Betonbauteile GmbH & Co. KG.
 "The situation is especially unsatisfactory when dealing with oversized-dimensioned, more complex construction elements. A precast element measuring, for example, 4.8 m in width and 8.5 m in length, with an individual weight of up to 51 tons, is not easy to handle. Length, width and height can perhaps still be determined with a tape measure. But all protrusions or warping in the construction element are virtually impossible to measure in the conventional manner and, if at all, only by approximation. This was up to now a definite shortcoming of our quality assurance. And recording of measurements of this kind was clearly very complex," said Janning.
Spherical special scanner from Faro Europe GmbH
In order to meet the new demands in the future, Kleihues since mid-2020 uses a spherical spatial scanner from Faro Europe GmbH, the manufacturer of mobile measuring systems, for measuring individual complex construction elements whose dimensional accuracy is of special importance for final erection. Dipl.-Ing. Peter Hinze – Senior Account Manager with Faro – explains the system: "The spatial scanner scans construction elements of up to 70 m length with a measuring accuracy of up to 2 mm. For measuring the entire element, a laser emits light waves from several measuring points around the precast element onto the object. When the laser beam strikes the object, a light spot is generated. The distance is determined based on the runtime of the laser. To aid this process, white globes of 14 cm diameter are positioned on the measured object, which the laser detects. Following the scanning process, the individual measurements are joined via the PolyWorks|Inspector software and pictorially depicted on a 3-D model. Hidden edges, angles, distances between points, wall thicknesses and warping of objects can in this manner be recorded in great detail," explains Hinze.
Comparison of setpoint and actual values during the entire production process
"The decisive advantage of this measuring system for us is that we can very flexibly compare the setpoints with the actual performance during the entire production process," explains Dipl.-Ing. Paul-Martin Grosskopff, Managing Director of Kleihues Betonbauteile GmbH & Co. KG. "With the aid of the software, we superimpose our original CAD model as set-point geometry over the measured 3-D model and are thus able to immediately analyze and correct any deviations.
By measuring we notice, for example, at a very early point of time when the formwork in our serial production expands, and we can correct this accordingly. Furthermore, the new measuring technique enables us to define repeated measurements with always the same measurement parameters, which are determined in advance for the construction project to be measured. This simplifies the measuring process and reduces error sources. The advantages directly affect the dimensional stability of the construction elements and, therefore, our entire product quality. In case of complaints, we will always be able to check, based on the 3-D model, whether these are justified and what may have caused them," says Grosskopff.
The fact that this system functions has already been confirmed in several completed construction projects for which the new 3-D laser scanner was used. "Our customers were especially thrilled by the visualization options that the PolWorks software provides," explains Grosskopff. "On the graphics that we provide our customers, it can be seen precisely where tolerances on a precast element exist – and, therefore, it is still possible to take corrective action during erection of the precast elements."
CONTACT
Kleihues Betonbauteile
GmbH & Co. KG
Siemensstr. 21
48488 Emsbüren/Germany
+49 5903 9303-0