Lanxess
Colored concrete barriers at the Formula E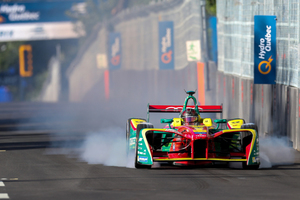 Figure: Lanxess
Formula E is all about pure electrically driven cars. City streets are used as race course
Figure: Lanxess
The last race of the FIA Formula E championship in 2017 took place in Montreal, Canada, at the end of July. The Inorganic Pigments (IPG) business unit of the worldwide leading specialty chemicals company Lanxess supplied roughly 37 tons of black pigments of type Bayferrox 340 for the construction of 5.5 kilometers of concrete barriers that lined both sides of the 2.75 kilometers long race course. The precast concrete elements were manufactured at the Canadian Groupe Beton Brunet located in Salaberry-de-Valleyfield, Québec.
In motor sports, Formula E is a "sports platform for sustainability". The cars are driven electrically; city streets are used as the race course. The concrete barriers used to block off the race course and separate the crowds from the raceway were specially conceived and designed for the event. They have twice the size of standard barriers and are decorated in a visually appealing way with the city logo of Montréal.
"We were very pleased about this exciting project, especially as sustainability is a top priority in Formula E," said Lise Charron, Account Manager North America for the IPG business unit based in Montréal. "The topic of sustainability that the whole project is about is a perfect match, as it is in line with many of our business values. The Bayferrox pigments used in the project are certified according to SCS. Scientific Certification Systems is one of the leading companies for independent certification and takes, for example, the proportion of recycled raw materials used in an industrial production process into account."
Excellent customer service
The barriers were designed for a long service life and to be re-used for several more racing seasons. Montréal has signed a three-year contract to host the race.
"Prior to this project, we had only worked with pigments on a small scale. Therefore, we had only limited experience with regard to the use and the coloring to be achieved," said Isabella Bégin, Project Manager at Groupe Beton Brunet. "We were delighted to cooperate with Lanxess on this project and to receive their support with color selection and handling. The pigment experts were able to recommend a package size that could be directly added to our production process, thereby eliminating dust, waste, additional handling steps, and potential weighing errors."