BT INNOVATION
B.T. Innovation celebrated 30-year anniversary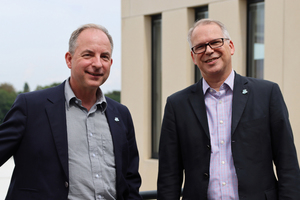 Figure: B.T. innovation
For many years a strong team: Felix von Limburg (left) and Stefan Wittek, the general managers of B.T. innovation GmbH
Figure: B.T. innovation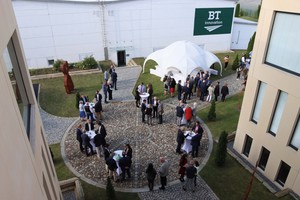 Figure: B.T. innovation
The anniversary celebration started with a drinks reception on the company premises of B.T. innovation GmbH
Figure: B.T. innovation
This year, B.T. innovation GmbH based in Magdeburg looks back on 30 years of company history. The company honored this event with an anniversary celebration held on September 01, 2021, with several customers, business partners and representatives from industry, culture and politics being invited. The about 200 guests were awaited by a diversified entertainment program with acts of international artists, culinary delicacies, selected drinks in an outstanding setting – because the production hall of B.T. innovation GmbH had been converted into a concert hall especially for the celebration.
In their opening addresses, on the occasion of the anniversary celebration, the general managers of B.T. innovation GmbH, Felix von Limburg and Stefan Wittek, reviewed the milestones of the company's history. It goes back to the foundation of a sales agency for special construction items in Magdeburg, with which Felix von Limburg set up his own business in September 1991. In 1996, BT Baubedarf Magdeburg GmbH arose from the sales agency and has been operating under the name of B.T. innovation GmbH since 2004. As managing partner, Felix von Limburg has built up a company with a present workforce of more than 60 people and customers in more than 70 countries as well as about 50 registered patents and trademark rights within 30 years.
Honorary certificate of the Chamber of Commerce and Industry
A special highlight of the celebration was the presentation of the honorary certificate of the Madgeburg Chamber of Commerce and Industry (CCI) to the company founder, in appreciation of his achievements for the regional economy. On behalf of Andreas Müller, the CCI general manager international, the CCI representative Melanie Kerst awarded the certificate on the occasion of the anniversary celebration: "Warmest congratulations of the CCI Magdeburg president Klaus Olbricht and the CCI executive director Wolfgang Merz on the 30-year anniversary. It is an honor and pleasure for me being allowed to present you the honorary certificate of IHK Madgeburg in appreciation of your 30 years of entrepreneurial activities."
B.T. innovation GmbH has ambitious goals for the years to come. "We want to continue to grow in a healthy pace, while expanding our position as a system supplier for efficient construction," Stefan Wittek stated. "So as to keep up with the ongoing digitalization in our business too, we intend to integrate the digital channels into our sales and distribution system. By the current extension of the online shop system, both for the B2C sector and the B2B segment, we now establish a third distribution channel, and measured by the size of our company and our industry, we are still pioneer in digital sales to business customers in Germany." The new online shop for B2B customers was officially launched on the occasion of the 30-year anniversary celebration – its product range comprises special construction items and products in the fields of magnet and formwork systems, sealing and connecting systems.