POHLCON
Anchor channels with bolts for dynamic loads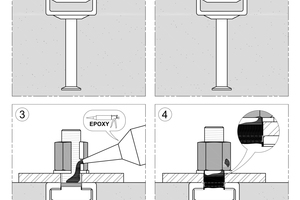 Figure: Pohlcon
The gap filler set of Jordahl comprises insert and nut: it was developed in order to respond to earthquake loads even more effective with the certified anchor channels of the Jordahl brand of Pohlcon
Figure: Pohlcon
The movements caused by dynamic loads of attachment parts are increased if a hole clearance exists around the fastening element. The movements have an unfavorable effect both in the long term and in the short term. Therefore, the hole clearance of screwed connections in steel structures or for fixing of production plants are grouted in case of occurring fatigue loads.
For the connection of steel components to reinforced concrete, the grouting of the annular gap is highly recommended where earthquake loads exist. Anchor channels are particularly suitable as fastening element of steel components to reinforced concrete, especially in case of earthquake loads. In this case, the mechanical interlocking acts very reliable between anchor and concrete as well as between the inserted bolt and the channel.
New solution for quick and safe filling of the hole clearance
So as to be able to respond even more effective to earthquake loads using the certified anchor channels, the Jordahl brand of Pohlcon based in Berlin offers a specially developed gap filler set (Fig. 1) as a totally new solution. This set allows a quick and reliable filling of the hole clearance. The insert of the set is simply pushed onto the bolt. Afterward, the steel component can be reliably connected to the nut included in the set (Fig. 2).
As soon as the assembly works are finished, the annular gap is filled for all connection points in one step. For this purpose, an epoxy injection mortar is inserted by means of a spout into the openings of the nuts included in the gap filler set. Just a few injections are needed to fill the hole clearance in a clean and simple manner. The insert of the set avoids an uncontrolled ingress of the injection mortar inside the anchor channel. Moreover, a seamless contact of anchor channel and bolt is ensured additionally.
The effectiveness of the gap filler set of Jordahl has been proven successfully by the Material Testing Institute (MPA) Stuttgart. Thilo Fröhlich, scientist at the MPA, is convinced of the system and, in particular, refers to the simple installation. "I am pleased that finally there is a feasible and working solution available for bolts that are mounted in anchor channels," states the specialist in dynamic loads at MPA Stuttgart.
CONTACT
Pohlcon Vertriebs GmbH
Nobelstraße 51
12057 Berlin/Germany
+49 30 68283-283