Wacker Neuson/Howal
78 external vibrators supplied to plant in Belgium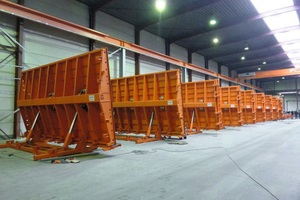 Figure: Wacker Neuson
The Bohez production line equipped with 13 Primus series tilt tables supplied by Howal and 78 AR 54 Wacker Neuson external vibrators
Figure: Wacker Neuson
Figure: Wacker Neuson
Firmly attached to the tilt table – the AR 54/6/250: the perfect choice for permanent, heavy-duty applications
Figure: Wacker Neuson
Bohez NV, an industrial and steel construction contractor based in Waregem, Belgium, planned to construct a new precast factory building as part of its expansion strategy. Having sought a supplier of the mold system and vibration equipment, the Belgian company contracted Howal GmbH, of Ettlingen, Germany, with the delivery of 13 tilt tables. Howal joined forces with its long-standing partner Wacker Neuson concrete solutions for the design and supply of the vibration and control equipment.
"It is our mission to develop sophisticated, top-class mold systems, and we are pleased to also be able to continuously expand our international business," explains Dr.-Ing. Hubert Holzapfel, general manager at Howal. "We recommended Primus series tilt tables for the project envisaged by our Belgian client Bohez. These tilt tables show an exceedingly homogeneous compaction performance." This performance is achieved as a result of the design, which includes a rigid central pipe and cantilever arms that are tapered towards the outside. "As a matter of course, customers consider it very useful and efficient if they get the tilt tables complete with customized vibration equipment, including external vibrators, distribution boxes and adjustable converters, which is why we designed the entire unit together with Wacker Neuson concrete solutions," Holzapfel adds.
Strong performance in
24/7 heavy-duty mode
The new production line has been tailored to local needs in close coordination between Howal, Wacker Neuson concrete solutions and the client. The vibration equipment comprises 78 AR 54/6/250 external vibrators with fitted connector cables and mounting bolts, as well as an FUE-M 43A frequency converter. "The vibrators of the 54 series show a particularly strong performance in a 24/7 heavy-duty environment," explains Ralf Küther, of Wacker Neuson concrete solutions, who also oversaw the commissioning process at the client's premises. "These vibrators provide an utmost degree of operational reliability – even under exceedingly demanding conditions – as a result of the vibration - and heat-resistant windings of the Class H (up to 180 °C) electric motor and the heavy-duty custom bearings. Clients benefit from long service lives of the equipment that requires only a minimum amount of maintenance."
The control and automation systems were also chosen in response to the specific needs of the client: one VK 6 and six VK 12 distribution boxes ensure smooth and comfortable operation of the unit, supported by a radio communication system to control the converters and a preset mode for the individual distribution boxes. Individual external vibrators can be switched off if and when required, which is a very useful feature for plant operation.
Comprehensive consultancy and service
The closely coordinated collaboration between the local Wacker Neuson sales force and the regional product specialists for concrete compaction aims to provide not only top-class equipment but also comprehensive consultancy and service from plant design to commissioning, which is exactly the added value Wacker Neuson concrete solutions offers. Together with his Belgian colleague Carl Codron, of Wacker Neuson Benelux, product specialist Ralf Küther familiarized staff with the vibration equipment and oversaw its start-up phase. "It is very important to us to not only sell a solution to the client but to provide consultancy and support in all project phases," Küther says. "We can leverage our expertise and provide additional tips and tricks to enable successful operation particularly when it comes to on-site commissioning."
Wim Bossant, of Bohez, is completely satisfied with this service: "The instructions given by Howal and Wacker Neuson concrete solutions – and the concrete pouring test run – were very helpful for the members of our team. The unit has worked smoothly ever since, and the carefully thought through 'complete package' has performed exceedingly well in day-to-day operation."