Production of concrete admixtures in Russia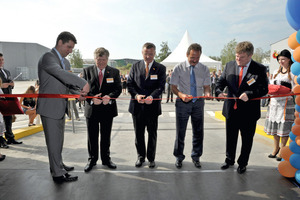 Photo: BASF
Cutting the Red Line (from left): Sergey Andreyev - Head of BASF in Russia and CIS, Dick Purchase - Vice President, Construction Chemicals Division, Tilman Krauch, Head of BASF division Construction Chemicals, Gennadiy Korotayev - Deputy of Head of Podolsk Region, Sergey Vetlov - Managing Director BASF Stroitelnye Sistemy

Photo: BASF
German chemical company BASF has opened its first production plant for concrete admixtures in Russia located at its existing site in the Podolsk District of the Moscow Region. With this new production facility BASF will serve its customers in the Russian construction industry with a wide range of concrete admixtures based on state-of-the-art technologies.
"Russia as an emerging market is very attractive for us. We expect the Russian construction industry to grow annually by seven percent in the next three years. By investing into local production of our high-tech admixtures we can serve our customers in Russia even more effectively and flexibly", said Tilman Krauch, head of BASF's Construction Chemicals division.
Latest generation products
The size of the Russian market for concrete admixtures is about €140 million annually. The BASF portfolio of admixtures produced locally at Podolsk will comprise 30 different admixture types including latest generation products based on Polycarboxylic Ether (PCE) technology. Among them are Glenium superplasticizers improving the flowability of fresh concrete as well as the strength and durability of the final concrete structures or RheoMatrix admixtures giving self-compacting properties to concrete.
To date, BASF has been importing concrete admixtures from its other production sites. Local production will help BASF to meet special requirements of the Russian construction market even better. BASF experts will be able to provide admixture formulations adjusted to the quality of domestic cement types and other raw materials as well as weather conditions.
Growing Demand
The admixtures will also be formulated specifically for optimum performance in their own market segments, i.e. Readymix, Precast, Manufactured Concrete Products and Site Mix/Paving. In a laboratory located in the manufacturing complex the quality of raw materials as well as finished products will be tested. A BASF training and information center has been constructed on the site to hold information workshops for customers and partners of the company.
Sergey Vetlov, General Director of OOO BASF Stroitelnye Sistemy, noted: "Construction companies in Russia are asking for more and more high-performance concrete to build projects in various climatic zones of Russia from Vladivostok to Kaliningrad. This results in an ever-increasing demand for BASF admixtures providing a good reason to start local production in Russia."
BASF has been providing construction chemicals to the Russian market since ten years. Projects realized with BASF products and expertise include sports facilities and other projects in Sochi, major infrastructure projects in Vladivostok and metallurgical complexes in the Ural Mountains.