Protegon high-tech roof tile at Dach+Holz 2012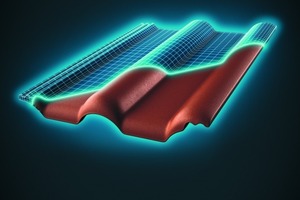 Photo: Braas
Protegon Active roof tiles provide triple protection: against weather, active protection from dirt deposits and greening as well as thermal
protection in summer
Photo: Braas
Braas, the supplier of intelligent roofing systems, presented at the trade fair Roof+Timber 2012 its future technology for roof tiles: Protegon Active roof tiles combine the time-tested quality characteristics of Braas roof tiles with innovative functions – they protect from dirt, improve the indoor climate and are highly resistant to weathering.
Protegon Active roof tiles are the result of many years of production experience. Roof tiles of Protegon quality, compared to conventional tiles, have an optimized interfacing edge. A worldwide unique production process now adds an additional pore-closing micromortar facing to the front interfacing edge. This surface enhancement guarantees long color intensity and effectively protects the roof tiles from dirt deposits and greening.
Low costs for airconditioning system
The pigments in the surface of Protegon Active roof tiles reflect up to 300 percent more infrared rays than conventional roof tiles and slates. This reduces the temperature on the rear side of the tiles by up to ten degrees Celsius. This noticeably affects the indoor climate under the roof: Depending on the roof structure, the indoor temperature is reduced by up to two degrees Celsius, lowering the energy consumption of air-conditioning systems.
Protegon Active roof tiles, moreover, provide reliable protection from difficult weather conditions, e.g., hailstorms or heavy rains. A special production method makes the roof tiles harder than specified in DINplus, i.e. by an average of 25 percent. Whether classical or modern, matte or satin-matte, deep black or classic red, with its models Tegalit, Taunus tile and Frankfurter tile, Braas offers the right roof tile in Protegon quality for houses of every style and for every taste.