New binder formwork for Glass in Mindelheim/Germany
Expanded supply options and shorter setup times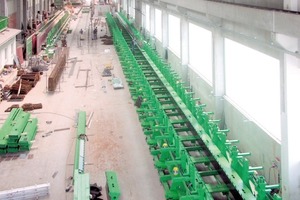 [Photos/Fotos: Avermann]
Fig. 1
Installation of the 72 m long base frame formwork by Avermann.
[Photos/Fotos: Avermann]
› Glass was established in 1948 as a building contracting company that over the years developed into a group of companies offering a range of different construction services from one supplier.

The company's modern precast plant covers all areas, from specialized civil engineering through to housing. One of Glass's specializations is turnkey industrial construction for which the company has built up an excellent reputation that reaches far beyond Germany.
In order to underpin and expand this sector, in parti­cular the construction of power stations and paper factories, in which the company specializes, the company has decided to invest in a new, flexible binder formwork system.
The briefing for the formwork manufacturing company was clearly defined: a versatile formwork for rectangles...