RATEC
Variable formwork for transformer compact stations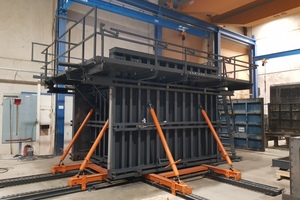 Figure: Ratec
Setting up the formwork for the transformer compact station in the plant
Figure: Ratec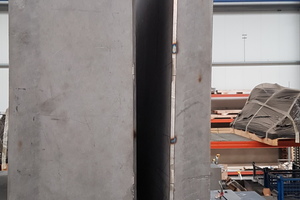 Figure: Ratec
One of the exchangeable inserts for the core for the molding of interior walls
Figure: Ratec
In the fall of 2018, Ratec had already delivered a highly-variable formwork system for the production of transformer compact stations to a German utility and transformer station builder. The system allows the customer to produce a varied range of station types. In mid-March 2019, Ratec received a follow-up order for the concept design and construction of a similar formwork solution at an addition location of the customer. The system was delivered at the end of July.
This modular formwork also has an extremely variable design. It can be used for the production of stations with two different external lengths (3.10 m and 3.60 m) and external heights (2.59 m and 2.84 m) with a uniform external width of 2.41 meters. The length can be varied using an adapter that is mounted between the two core halves. The height is achieved through the use of expandable slab formwork.
High precision and durability
Unlike predecessor products, fewer individual attachments are used for this formwork. Only the internal walls of the stations vary, they are produced with the help of specially customized inlays for the core. In total, there are two times three exchangeable inserts available to the customer for the station variations. These are put in place using a crane and subsequently hydraulically tensioned. The effort needed for the changing of inserts is thus significantly lower with this type of formwork that with the first type – but this is always strongly dependent on the number of station types that are to be prepared with one formwork. Together with the two length and height options, the formwork covers a total of twelve different station variations.
Once again, there is a draft angle for demolding, which means that the walls are formed slightly conically. To lift it out, the ground formwork is hydraulically raised about ten centimeters. Overall, the ground formwork has more than 60 tons of lifting force that is transferred over four cylinders. This formwork is also once again equipped with vibrators which are used for normal and exposed aggregate concrete and which can generate 14 kilonewtons of vibration power.
The follow-up order is further evidence of the confidence customers have in Ratec's competences and in the reliability of the premium-quality workmanship of a product 'Made in Germany', which stands for the precision and durability of the formwork.
CONTACT
Ratec GmbH
Karlsruher Straße 32
68766 Hockenheim/Germany
+49 6205 9407-29