TUDALIT/GW-TUD
10th Carbon and Textile Concrete Conference in September in Dresden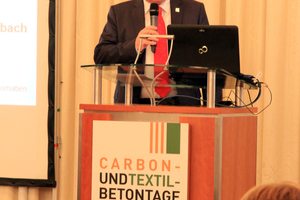 Figure: BFT International
In 2017, Prof. Manfred Curbach of the Institute of Concrete Structures of TU Dresden, had welcomed around 350 participants to the 9th Carbon and Textile Concrete Conference
Figure: BFT International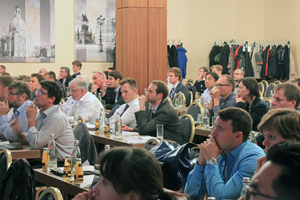 Figure: BFT International
The large lecture hall in the Hilton Hotel in the center of Dresden was well filled on both days at the last Carbon and Textile Concrete Conference 2017
Figure: BFT International
Carbon and textile concrete
is gaining increasing significance in construction practice and is already today an integral part of numerous basic and practice-related research projects. The Carbon and Textile Concrete Conference, which will take place on 25 and 26 September 2018 in Dresden, Germany, is the ideal platform for an effective exchange of experience and results.
A total of around 50 lectures from the newbuild, repair and restoration and the kit components sectors will bring the participants up to date on the current state of the art in research and practice. The program of lectures lists, among others: Mike Schlaich on the topic of "Prestressed carbon concrete," Gerald Eisewicht on the topic of "Construction and process engineering for multi-curved shells of carbon concrete," Sven Bosbach on a "Modular construction system for brick construction," and Christian Kulas on the topic of "Precast garages of textile concrete brought to series production."
Among this year's special highlights are the award of the Architecture Prize and the opening lecture by the well-known Swiss soccer referee Urs Meier on the topic "Between the fronts – Making decisions under pressure."
The event location is this year the German Hygiene Museum, Lignerplatz 1, in Dresden. Organizers are, as in the previous year, the association and GWT-TUD GmbH. The Association C3 – Carbon Concrete Composite is cooperation partner.