Sealant for Library 21
Reliably sealed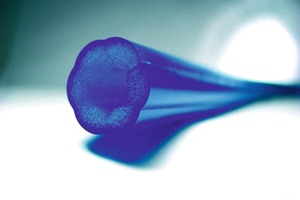 [Photos: StekoX GmbH, Magstadt]
Fig. 1
The hexagonal injection hose system WaterproofX
®
100 reminds of a honeycomb. It is fitted with smallest micro outlets allowing the injection material discharging easily and thus filling pores and cracks of the concrete.
Abb. 1
Der sechseckige Injektionsschlauch WaterproofX
®
100 erinnert an Bienenwaben. Er weist kleinste Mikroöffnungen auf, durch die das Injektionsmaterial leicht austritt und
Poren und Risse im Beton verfüllt.
[Photos: StekoX GmbH, Magstadt]
 The Library 21 is built directly above the city railway U12 under construction situated in the future Mailänder Platz in the new Europa district planned within the Stuttgart 21 project. The injection hose system WaterproofX® 100 of StekoX seals the new Library of Stuttgart in a permanent and reliable way and will perfectly protect the moisture-sensitive materials inside the building.

In May 2010, the new library celebrated its topping out. Last year, the double façade of the new building worth about 70 million euros could be completed in the middle of the discussions about Stuttgart 21. The South Korean architect, Eun Young Yi, designed the 35 meters high crystal cube. The word "library" is displayed in large letters on each side of the façade: on the north façade in German, on the west side in English, on the south façade in Arabic and on the east side in Korean.
First public building in the new city quarter

Mid 2011, the library will be the first public building to be...