Pedestal
Permanently attractive floor coverings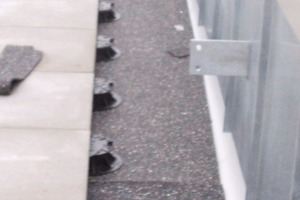 Fig. 1
Height adjustable pedestal: building project euro-gate Hamburg, PLV 50/75 combined with PP 155/15 and AS 15/3.
Abb. 1
Höhenverstellbares Stelzlager: Bauvorhaben euro-gate Hamburg, PLV 50/75 in Kombination mit PP 155/15 und AS 15/3.
 35 years of experience with PlattenPlatte® is given, the pedestal made by euro-system Couwenbergs as a variable substructure for flat roofs, terraces, balconies or parking decks available in heights of 15 up to 600 mm.
Everything started with an idea more than 35 years ago resulting in a patent, and now euro-system Couwenbergs oHG is in the position to look back to over 35 years of experience. At the beginning there was the problem: The rigid connection between slabs and/or wood coverings on balconies, access balconies, terraces and flat roofs and the layers beyond them (concrete, cement, mortar and grit). The loads caused by solar irradiance, rain water or frost lead to cracks, leakage and subsiding of the covering when laid in the conventional way. High costs of repair are the inevitable consequence.

The...