New mold slip system
Better quality and less wear and tear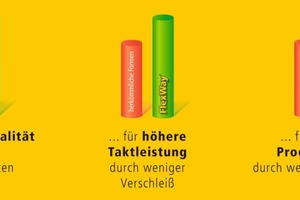 Fig. 1
Indicator for large-size slip elements of the FlexWay.
Abb. 1
Kennzeichen für großformatige Gleitelemente im FlexWay.
FlexWay is the name of the mold slip system of Rampf Formen GmbH. This system leads to a significant reduction of the wear and tear of concrete block molds. Furthermore, the quality of the concrete blocks manufactured is enhanced considerably by using this new system which can be used for all types of Rampf paving block molds. Other positive effects include an increased number of cycles and a reduction of the reject rates.
The system was presented to an international audience at bauma 2010. In the meantime, this new patent of Rampf has revolutionized the production of concrete blocks - experts are highly impressed. In the last few years, the sophisticated system was designed in the own development department of Rampf Formen GmbH and was tested together with business partners in a number of extensive test series regarding its suitability for everyday use. The outcome achieved after many years of work is excellent. Using the new mold slip system ensures an increased number of cycles due to less wear and tear....