Strong Increase in International Scope
Top Marks from Exhibitors and Visitors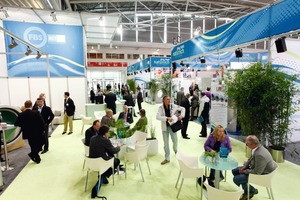 [Photo:/Foto: FBS]
Fig. 1
The motto of the large FBS joint booth at Ifat Entsorga 2010 is: "Flowing through concrete naturally".
Abb. 1
Das Motto des großen FBS Gemeinschaftsstandes auf der Ifat Entsorga 2010: "Alles fließt natürlich durch Beton".
[Photo:/Foto: FBS]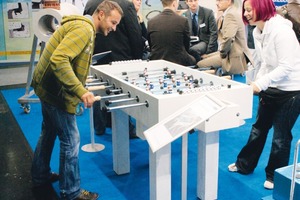 Fig. 2
The concrete table soccer presented by Betonfertigteile Mönninghoff that was manufactured by the company's trainees attracted young and old visitors.
Abb. 2
Ein Publikumsmagnet für Jung und Alt war der von Betonfertigteile Mönninghoff ausgestellte Betontischkicker, den die Auszubildenden des Unternehmens fertigten.
 After merging with Entsorga, Ifat has celebrated a successful premiere and established itself as the world's leading trade fair for the environmental technology industry. This is reflected by the strong international interest expressed by the proportion of visitors from abroad, which increased to 40 %. Thus, the trade faire remains attractive for a lot of trade visitors, suppliers and manufacturers.
The trade fair has met the expectations of the organizers this year again: Around about 110,000 trade visitors came from more than 185 countries.
For the first time, Fachvereinigung Betonrohre und Stahlbetonrohre e.V. (FBS - German trade association concrete pipes and reinforced concrete pipes) was represented at a large exhibition booth shared with some member companies. Among the companies participating in the new concept of the joint booth under the all-embracing motto: "Flowing through concrete naturally" besides Berding Beton GmbH are Schäfer Stahlbeton GmbH, Kijlstra GmbH & Co. KG,...