MBCC Group commits to 45% of sales being from sustainably advanced products by 2025
03.06.2022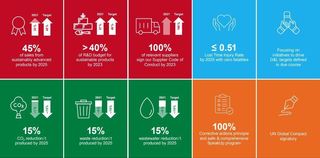 Figure: MBCC Group
▪ Sets out decarbonization, waste, and wastewater targets
▪ Affirms support for 10 principle goals of the UN Global Compact
MBCC Group, a leading construction chemicals and solutions business, today published its first Sustainability Report (click here for the report).
"MBCC Group believes we all have an important role to play when it comes to decarbonization and taking ESG and sustainability seriously," said Dr Jochen Fabritius, CEO of MBCC Group.
"Our customers tell us they want more sustainable solutions to their construction challenges; increasingly, what is right for the environment is also right for the bottom line."
The report sets our clear goals to be reached by 2025, including:
- 45% of sales to be from sustainably advanced products;
- 15% reduction/t in CO2;
- 15% reduction/t in waste production;
- 15% reduction/t in wastewater production.
Additionally, by 2023, more than 40% of the group's R&D budget will be exclusively focused on sustainably advanced products.
Dr Fabritius concluded, "I believe we have built a strong foundation for sustainability and remain confident in what it will deliver in the years ahead".
CONTACT
MBCC Group
Glücksteinallee 43-45
68163 Mannheim/Germany
+49 621 40549843