Experience Paschal systems at virtual trade fair
24.10.2022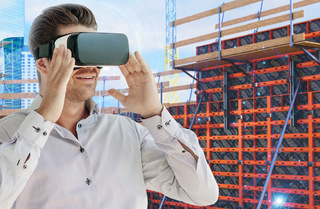 Figure: Paschal Paschal launches its virtual trade fair solution for bauma. This will be available along with VR glasses to visitors, or as a browser-based application for interested parties worldwide. Paschal is using digital technology to make customer contact: Under the motto, " Paschal digital", a virtual trade fair was created as an innovative brand world, where Paschal product solutions can be experienced close up.
Insights of a special kind with virtual reality at bauma
Equipped with VR glasses and a controller, at the Paschal trade fair stand, interested parties can immerse themselves in a digital building site with spectacular insights. The 360° view of all aspects of a large construction site gives visitors the opportunity to choose the direction and subject matter for themselves.
A major advantage of virtual reality is the ability to convey impressive facts and situations visually and realistically. This now offers Paschal the opportunity to also bring large-scale formwork solutions to life "live", and give customers the best possible impression of what Paschal products can achieve.
For interested parties from anywhere in the world - From the comfort of their own home
With the virtual trade fair, Paschal product highlights from all over the world can be experienced close up – around the clock, seven days a week: In the showroom, Paschal presents proven and brand-new formwork and shoring products. The building site environment shows Paschal systems being used directly on-site, while innovative software makes automated formwork planning a reality.
In contrast to a website that is consumed passively, the focus here is on active exchange and communication between experts and interested parties. In this way, you get all the benefits of presentation and information that are found at trade fairs. With a chat function, Paschal also offers individual discussions by means of video conferencing independently of the trade fair.
The Paschal team looks forward to your visit at the bauma trade fair stand FN.618/2 or digitally at www.paschal-digital.com
CONTACT
Paschal-Werk G. Maier GmbH
Kreuzbühlstr. 5
77790 Steinach/Germany
+49 7832 71 237