GOLDBECK
Sustainable partnership: Siemens and Goldbeck conclude agreement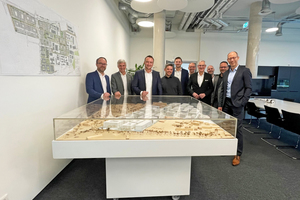 Figure: Goldbeck
All participants are highly pleased with their continued cooperation. From left to right: Andreas Komma (Siemens), Rolf Klotzsche (Siemens), Daniel Bechmann (Siemens), Mario Grossmann (Siemens), Claus Albrecht (Goldbeck), Andreas Urban (Goldbeck), Thomas Braun (Siemens), Sven Umsonst (Goldbeck), Dr. Andreas Hubauer (Goldbeck), Dr. Michael Six (Goldbeck)
Figure: Goldbeck
In 1965, Siemens opened a research center in the south of Erlangen, Germany. Since then, thousands of the company's innovations have been tested and brought to serial production. Since 2014, the site – approx. 540,000 m² in size – has itself become a novelty. Known as Siemens Campus Erlangen, it is in the process of becoming a new, future-oriented urban quarter that in terms of sustainability, digitization and work quality is about to set new benchmarks worldwide.
Last Thursday, Siemens officially commissioned Goldbeck with implementing Module 8, one of several new building complexes being planned in Erlangen. Within a period of only 24 months, the construction and service enterprise, which is active throughout Europe, will erect on Siemens' world-largest office location three office buildings with a useable area of around 50,000 m², a car park with 1,000 bicycle and 1,130 car parking spaces – about one half of these with battery charging infrastructure. And that is not all: in the planning process, client and general contractor laid down common objectives for sustainability.
Extension of Siemens Campus Erlangen
"Since planning began for Siemens Campus Erlangen, an open new quarter of Erlangen has come into being and is continuing a path of visionary development," says Thomas Braun, General Manager of SCE Development. "This concerns the manner in which we are building today, the demands we place on sustainability, the ecological revolution in transport and much more. In all of this, the Campus is always up front, often even as trendsetter. In Module 8 we will continue with our All Electric Buildings principle.
Goldbeck is erecting the buildings by the systematized construction method typical of the company. Crucial building elements such as the structural frameworks, floor slabs and walls are premanufactured in the company's own plants. Compared to conventional building methods, this not only ensures adherence to cost and deadline schedules, but also saves a considerable share of the usually required resources and the emissions produced. Goldbeck floor structures, for example, use an average of 40 % less ­material than conventional building methods. By utilizing types of concrete with lower clinker content, moreover, the company can save large amounts of CO2. In addition, there are high recycling rates for materials such as steel and aluminum.
Pushing decarbonization of real-estate functions
"Our systemized construction method can achieve significant savings in material and CO2," explains Dr. Michael Six, Managing Director of Goldbeck Deutschland GmbH and Chief Sustainability Officer of the company upon closing of contract. The company's office building system, for example, has already been pre-certified on the Gold level by the German Society for Sustainable Building (Deutschen Gesellschaft für Nachhaltiges Bauen / DGNB). The car park system is expected to be certified next year. "For this project we, together with Siemens, have set still higher work objectives. For Goldbeck it's the first time that we, in addition to pricing and scheduling, have contractually undertaken to observe a maximum CO2 emission limit per square meter constructed," adds Michael Six.
This is not the first joint project for Siemens and Goldbeck. At Frankfurt Gateway Gardens the Goldbeck subsidiary in Frankfurt is currently building "The Move," an office complex of approx. 38,000 m² under the sign of the New Work concept. Claus Albrecht, Goldbeck's manager responsible for the Frankfurt subsidiary, emphasizes the advantage of this continuous partnership: "The demands that Siemens places on the quality of amenity values and environmental protection were already without precedent in implementing The Move. During the entire project time, we again and again jointly worked out adjustments, challenged each other and sustainably developed many modules. The result shows: this partnering model was a complete success, which we now want to follow up in Erlangen with a similar project team."
Construction work for the new building complex in Erlangen will begin in the autumn of 2023, and completion of the construction is scheduled for the end of 2025. For an especially sustainable operation, our installations will include solar panels on the roofs as well as smart HVAC and energy-efficient control of temperature, lighting and ventilation. Apart from the Gold Certification of DGNB, Siemens and Goldbeck aim for Gold Certification by the international LEED standard.
CONTACT
Goldbeck GmbH
Ummelner Straße 4-6
33649 Bielefeld/Germany
+49 521 94 880