Kuraray Europe
Japanese synthetic fiber: Kuraray presents Kuralon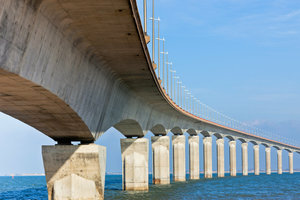 Figure: Kuraray Europe GmbH
Kuralon is suitable for concrete structures that need to be reinforced for difficult conditions, such as a high risk
of erosion by sea waves
Figure: Kuraray Europe GmbH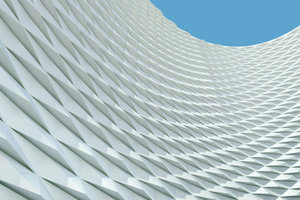 Figure: Kuraray Europe GmbH
Using PVA fiber prevents the deterioration of concrete structures
Figure: Kuraray Europe GmbH
Kuraray is a Japanese chemical company founded in 1926 as a Rayon manufacturer, which now operates globally. The business offers innovative, sustainable and cutting-edge technology for numerous industries such as construction, automotive, packaging, agriculture and consumer goods all over the world. In this article, Kuraray introduces Kuralon, a synthetic fiber which is made from polyvinyl alcohol (PVA) resin.
About Kuralon
Kuralon is a synthetic fiber made from polyvinyl alcohol (PVA) resin. In 1950, Kuraray started its commercial production of Kuralon, which was the first synthetic fiber invented in Japan, and it has an especially long history in the cement composite market as a substitute of asbestos. The development of PVA fibers for cementitious composite applications was largely triggered by the European asbestos regulations in the 1970s. At that time, slate was manufactured by mixing asbestos with cement or spraying it onto the surface. In response to the asbestos regulation, European slate manufacturers began research on non-asbestos slate and found that Kuraray's PVA fiber could be used as a substitute. As a result, Kuraray's PVA fibers rapidly became popular in Europe as an asbestos substitute for slate, and have already been in use in Europe for more than 40 years. Today, Kuraray's PVA fiber is still used as a standard substitute for asbestos in Europe.
Referring to the concept of cement reinforcement in slate, a fiber design suitable for concrete and mortar applications was developed, and Kuralon is expanding as a pioneer in synthetic fiber reinforced concrete in Japan.
High strength, UV and alkali resistance make Kuralon the ideal material for durable and low-maintenance concrete structures. Kuralon offers a unique combination of other basic mechanical properties making it most suitable for concrete and mortar reinforcement.
For reinforced concrete and mortar
Using PVA fiber for preventing the severe deterioration of concrete structures brings about a number of benefits: In conventional steel-reinforced concrete (RC), for instance, a deflection of 4 mm at the top of a specimen causes a crack opening on the specimen's bottom side of about 100 μm. This is a critical value as capillary suction of a concrete surface starts to show a serious increase when its cracks exceed a width of 100 μm. The critical point is the very early post-crack period. As soon as the first crack appears, moisture penetrates the specimen and causes damage. It is therefore essential to control the crack as soon as it occurs.
Reinforcement with conventional fibers, such as PP or ARG, can generally help keep the crack width smaller, but not in the very early post-crack period when it is most needed, according to the supplier. Thus, concrete reinforcement with conventional fibers does not truly work and does not add value to durability especially in heavy-duty concrete structures.
Superior fracture toughness, damage tolerance and ductility
The PVA fiber, Kuralon, bridges and keeps the cracks very small, especially in the most important phase right after the crack. The advantage is that the probability of critical deterioration of the concrete structure is minimized. Sometimes this even helps self-healing. This performance is worth considering if one wishes to reinforce concrete structures for severe conditions such as high erosion risk from sea waves, drifting objects in offshore use, and high risks of structural deterioration by heavy dynamic loading and anti-freeze chemicals applied to highways and airport taxiways.
Kuralon-reinforced concrete strain-hardens after first cracking and exhibits a strain capacity 500 times greater than that of normal concrete. This behavior ensures superior fracture toughness, damage tolerance and ductility under severe shear loading conditions. Kuralon helps to extend service life and drives sustainable investment decisions.
CONTACT
Kuraray Europe GmbH
Philipp-Reis-Str. 4
65795 Hattersheim/Germany
+49 69 305 85300
>