EUROBEND
Flexible rotor straightener with double benders for just-in-time operation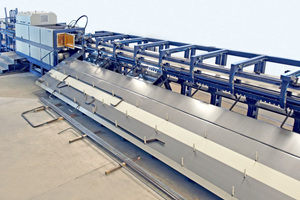 Figure: Eurobend
The Syntheton covers the production of straight bars up to complex shapes, without changeover times
Figure: Eurobend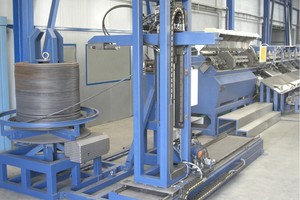 Figure: Eurobend
With a coil opening robot, the Syntheton processes up to 25mm rebar
Figure: Eurobend
The Syntheton rotor straightener with double bender, is a sophisticated processing center for reinforcing steel from coil. The patented extremely fast diameter change and the bending tool change without loss of time, make the Syntheton the perfect machine for just-in-time production.
As the developer of the rotor straightening technology with hyperbolic rollers, Eurobend GmbH offers the latest fifth-generation rotor, which is maintenance-free and equipped with eight hyperbolic rollers. Eurobend's rotors stand for an uncompromising straightening quality.
Flexible rotor straightener with double benders from coil
Companies in a modern production environment must be able to process incoming orders quickly and reliably. The Syntheton rotor straightening machine with double bender is designed for these production requirements. In order to be able to carry out many and, above all, quick diameter changes, it makes sense to rely on a reliable and maintenance-free system for diameter changes that does not have any moving mechanical parts. This enables extremely fast diameter changes in 3 seconds and avoids the use of wear-prone components.
The models of the Syntheton series cover the diameter range from 6 - 25mm and can be configured with three up to six rotors. Each rotor is dedicated to one diameter and is set once at the factory.
To further optimize the production flow, the Syntheton features a patented system that allows you to resume work when the coil to be processed is changed, without having to resort to time-consuming butt welding. To do this, the last piece of coil is fed out forwards in the direction of production and the new wire is fed into the rotor with the pre straightening and wire guide units without readjusting the rollers of the rotor.
Latest 5G rotors heart of the system
Time is also saved when changing the bending radius, as this takes place without delay. All bending radii are located on a retractable bending tool directly on the bending modules.
The heart of the rotor straightening systems of Eurobend GmbH are the latest 5G rotors. These ensure excellent straightening quality, with a straightening accuracy of more than 1/1000. Even with highly ductile material, such as ductility class "C" reinforcing steel with diameters up to 25 mm, the material properties are maintained and the reinforcing steel ribbing is protected. The patented rotor maintenance system minimizes operator intervention.
Another advantage of the Syntheton models is the low energy consumption. The hyperbolic rollers have much lower friction than hard metal dies. Added to this is the energy saving when changing the diameter, thanks to the patented convergence system, which does not require moving mechanical parts. The Syntheton machines consume up to 40 percent less energy than comparable, conventional machines. The production data can be received using common industry formats such as Unitechnik, BVBS and others.
Software updates and quick diagnostics can be performed remotely via Internet connection. Thanks to the sophisticated and compact design, all components of the Syntheton are easily accessible and have basic maintenance requirements.
CONTACT
Eurobend GmbH
Alexanderstr. 1
90547 Stein-Nuremberg/Germany
+49 911 9498980