Wasa
Wetcast: Liquid polyurethane for creative concrete manufacturers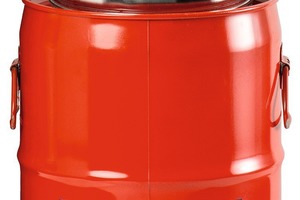 Figure: Wasa
Wasa Pur consists of a 25-kg A component and a 4.5-kg B component. Processing takes place by weight
Figure: Wasa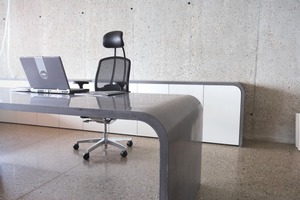 Figure: Wasa
The concrete manufacturer Diri in Austria works with Wasa Pur – desk and sideboard were manufactured with self-compacting concrete with Dyckerhoff Flowstone
Figure: Wasa
In Neubrunn, in south Thuringia, Germany, the company Wasa began some time ago, in 2006, with the manufacture of wetcast molds made of polyurethane for high-quality concrete products. Today wetcast molds with modern batching and mixing plants for large and small series are manufactured at this location.
When planning began for the new business sector, the question arose as to which of the synthetic resins made of polyurethane available on the market would be suitable for use in the rugged environment of the concrete plant. It soon became clear that the usual standard polyurethane would not satisfy the requirements placed on quality and durability – in particular, not for the manufacture of large-dimensioned and elegant cast stone blocks, for which there is increasing demand.
Wetcast molds for creative ideas in stone
Together with Rampf Polymer Solutions, a leading specialist for high-quality casting resins, a specifically for the concrete industry adjusted polyurethane was developed exclusively for Wasa. Wasa has been processing these special materials since 2013 in thousands of wetcast molds operating successfully for customers worldwide.
Today, the challenge, to manufacture wetcast molds with simple means for a small series, or for implementing a creative idea in stone, is taken up by creative concrete manufacturers. With the new Wasa Pur, made available as a special offer, concrete manufacturers can now draw on an established system for in-house manufacture of wetcast molds based on a time-tested system.
True-to-detail reproduction of the model
Wasa Pur consists of an A component of 25 kg and a B component of 4.5 kg. Processing takes place based on parts by weight. The fluid two-component casting resin, owing to the low viscosity of both components and a prolonged pot life of at least 30 minutes, can be easily processed by individual manual casting.
Wasa Pur offers its users the following benefits: simple homogenous mixing of both components, fast venting and fine levelling of the casting mass, field-tested release agents for modeling and cast stone production are available, the mold reproduces the model true to detail; without staining of the end product; free from plasticizers and mercury; satisfying all requirements of the European Chemicals Regulation REACH.
Made in Germany
Wasa Pur is manufactured in Germany and directly delivered to the customer with short delivery times. The casting resin has a long working life and must be used within twelve months from the date of manufacture.
Consultation provided by Wasa draws on comprehensive experience in mold making and discussions on cost-efficient alternatives with the customer. Customers can deliver their prepared models to Wasa together with the casting frame. Casting takes place by means of mechanical and computer-controlled process engineering.