BHS Sonthofen
Twin-shaft batch mixers also for precast concrete plants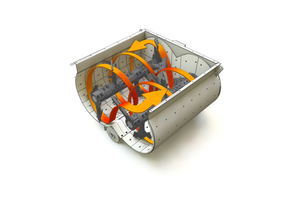 Figure: BHS-Sonthofen
Double-shaft batch mixers generate a three-dimensional spiral motion of the entire mix
Figure: BHS-Sonthofen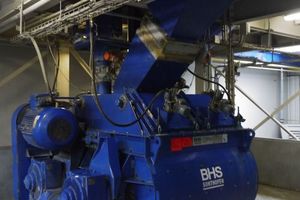 Figure: BHS-Sonthofen
A mixer of type DKX 2.25 for 2.25 m³ of hardened concrete per batch at Lammers Beton B.V. in Weert, Netherlands
Figure: BHS-Sonthofen
At bauma 2013, BHS-Sont­hofen presented mixers of the DKX series, which can be adjusted individually to the requirements of the precast concrete industry with their  comprehensive modular system. They are suitable for mixing fiber and colored concretes as well as self-compacting concretes, HPC, and UHPC. They ensure very high homogeneity and reproducibility of the different mix designs.
Concrete technology has undergone significant changes in recent years. Precasters are making increasing use of fine-grained aggregates, low-water cement ratios, modern additions, as well addition of fibers, all of which impose high requirements on the mixing technology. For this reason, twin-shaft batch mixers, which have already become standard for producing ready-mixed concrete, are now used more and more often in precast concrete plants. They generate high shear forces and achieve mixes of high homogeneity with short mixing times. They offer, moreover, great flexibility in production, since they also produce partial batches of very high homogeneity. The good trough discharge makes the mixers suitable for quick mix changes from one batch to the next. BHS-Sonthofen offers for mixers of the DKX series many different configuration options, making the twin-shaft batch mixers especially suitable for use in precast plants.
Three-dimensional movement of the mixture
Jan van Lierop, production manager at Lammers Beton B.V. in Weert, Netherlands, uses a mixer of type DKX 2,25: "We manufacture for the most part precast elements of self-compacting concrete. This is the reason why we use the twin-shaft batch mixers from BHS-Sonthofen, which provide not only short mixing times, but also rapid discharge of the mixer trough. Because we primarily produce small series and one-offs, we need a mixer that can also process partial quantities efficiently. In addition, we often change mix designs from one batch to another, and for that reason it is important to have a mixer that discharges its batches quickly and well. That is of decisive importance for our colored concretes – aside from maximum homogeneity. We must, moreover, be able to clean the mixer trough automatically to prevent the color shades from mingling. And we can now process our mixes much faster than was the case with the conventional mixer that we used previously: During casting, any desired mix that is called up is completed after only a few minutes." The twin-shaft mixers generate a three-dimensional motion sequence in the entire mix. In addition, an intensive exchange of materials takes place in the turbulent zone where the two mixing circuits overlap. The energy input is in this way optimally converted into an intensive relative movement of the entire mix, and a favorable specific energy consumption is achieved.
 BHS delivers mixers in sizes between 0.5 and 9.0 m³ of hardened concrete per batch. The mixers also output partial batches of less than 10 percent of the filling volume homogenously – an important aspect for precasters.
Mixers successfully used for UHPFRC production
In selecting the discharge mode, precasters can choose between one continuous or two separate rotary slide valves. With these valves, it is possible to discharge the fresh concrete alternately into a bucket conveyor or a truck mixer. For processing especially complex mix designs, the mixers can also be fitted with large discharge valves that ensure especially rapid and complete discharge of a batch.
In order to input the necessary high shear energy, which is especially important in the manufacture of fine-grained mixes or fiber concrete, the mixers can be optionally provided with mixing gear fitted with twice the amount of mixing tools than mixing gear used for other applications, with fitting possible of more powerful drives for mixing speeds that are 50 percent higher.
Mixers of this type have been used with good success; for example, in the manufacture of fiber-reinforced ultra-high performance concrete (UHPFRC), used for the first time by the company Max Bögl AG for the construction of the slender Wild Bridge in the Austrian town of Völkermarkt. This concrete attains a compressive strength that nearly matches that of steel.
For high-speed mixers, great wear resistance of the inner wall of the mixers is of great importance. For that reason, BHS supplies troughs optionally lined with tiles with a material thickness of 28 mm. These tiles, placed in rows of staggered material hardness, ensure uniform wear in all wear-susceptible zones. In this way, they reduce maintenance and attain nearly twice the service life of the customary troughs lined with rhombic tiles. For quality monitoring, measuring probes for moisture and temperature control are available on request, as well as video cameras that are mounted on the outside of the trough cover, thus enabling a look into the trough.
In order to continue production in the precast plant in winter as well, BHS installs, on request, special steam lancets for introducing hot steam. In this manner, the concrete can be heated to the temperature required for casting when the energy supplied through the addition of hot mixing water is not sufficient.
The delivery program includes a dustproof and watertight cover for the mixer trough featuring large maintenance covers that are opened via gas springs, inlets for aggregates and cement, suction filters with return of the cement dust to the mixer, video cameras for visual control of the mixing process, as well as weighing and batching engineering.
Manual cleaning reduced
The integrated high-efficiency high-pressure cleaning plant cleans the mixer in only a few minutes and ensures in this way that no material – such as color pigments – contaminates the next batch. In addition, this reduces manual cleaning work to a minimum.
The worm gear used by BHS is rugged and has a long service life. Three teeth of the large wormwheel are always in mesh with the thread of the worm. The bevel gear stage needed in other types of gears is not required here. To achieve high operational reliability, the gears are not connected to the mixing trough and are only loosely mounted on the mixing shafts. In this way, the loading that occurs within a very short time during charging the mixer can be efficiently evened out. PLC-controlled central lubrication is furthermore optionally available for permanently monitoring up to 14 points.
Another design feature is the spatial separation between seal and bearing. The discharge slide valves are solid, precision-made cast-iron elements provided with additional protection against wear that run smoothly in the bearing under all operating conditions. The ledges of the slide valves are adjustable and the valves close tightly at all times.