PCI
Three new products defy wind and weather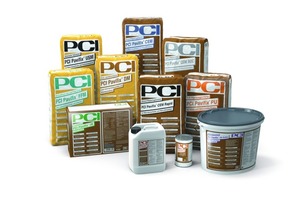 Figure: PCI
The extended port­folio comprises a total of ten PCI Pavifix products for every application in garden and landscaping construction
Figure: PCI
PCI Pavifix CEM ROC, USM and FFM supplement the landscaping portfolio of PCI Augsburg GmbH by three special-purpose and high-end mortars that facilitate filling, placing, and fixing in garden and landscape construction.
The ready-to-use water-permeable PCI Pavifix 1 K Extra joint mortar, for example, is suitable for all applications subjected to moderate loading. Garden paths, patios and garage accessways can be optimally designed with this product. New: thanks to the improved mix design, PCI Pavifix 1 K Extra hardens even more quickly.
With PCI Pavifix CEM ROC, PCI now adds a new cementitious...