Elematic Oyj
Structural analysis with EliSlab 2.0 for hollow-core slabs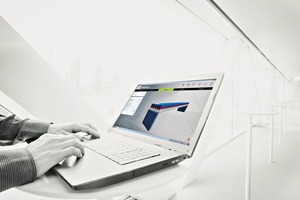 Figure: Elematic
EliSlab structural analysis covers all relevant calculation points and provides a range of smart and practical features to make everyday work easier
Figure: Elematic
Time is of the essence when conducting structural analyses for hollow-core slab production. The related process is often only allotted a few minutes in the schedule, which means that an efficient, reliable and easy-to-use tool is a must-have for successful operations. Elematic, a world-leading manufacturer of precast concrete plants and production lines, is introducing a unique structural analysis tool called Elematic EliSlab 2.0.
In hollow-core slab production, structural analysis is not only compulsory but also a necessary part of the process. It is no simple task, yet it is expected to be completed in a very short time. However, structural analysis as such is not a simple process; many different factors need to be taken into account and included in the calculation. Despite the ubiquity of the task, there is no efficient tool on the market to handle it. Instead, many businesses create – and maintain – their own Excel sheets for this purpose, which takes time and focus away from the actual work, i.e. the calculation of the slabs.
Simplifying everyday ­calculations
Elematic EliSlab is a unique tool developed and designed specifically for the needs of structural analysts who work with hollow-core slabs. The EliSlab structural analysis program covers all relevant calculation points and provides a range of smart and practical features to make everyday work easier, such as the inclusion of openings and toppings in the calculation, the use of factory-based profiles and strand patterns, and a collection of national annexes for Eurocodes. Eurocode updates are available as an option.
In addition to the analysis, navigating and interacting with EliSlab is easy thanks to a smart, streamlined graphical user interface that progresses logically. The software also offers an extensive reporting function that stores calculation inputs and results in detail. This means that all calculation reports are just a few clicks away when needed for the authorities or for any other purpose.
For precast producers, EliSlab also works as a practical tool to use in the quotation process for costing. The analysis tool quickly displays the required amounts of strands per slab, which simplifies the costing proc-ess significantly.