MCT ITALY
Prestressed hollow core slabs technology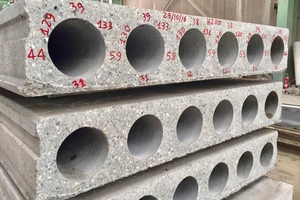 Figure: MCT Italy
Hollow core slabs are prestressed and precast concrete elements …
Figure: MCT Italy
Hollow core slabs are prestressed and precast concrete elements, manufactured using long line steel casting beds. They are typically 1200mm wide (but can range from 600mm – 2400mm) and between 150mm – 500mm deep.
Spans can be anywhere up to around 20m, and applications range from individual houses to residential apartments, office buildings, hotels, schools, hospitals, supermarkets, industrial units and car parks.
Longitudinal voids run throughout a hollow core slab. These reduce raw material consumption, costs, the self-weight of slabs themselves and provide ready-made ducts for services.
Importance of concrete
Prestressed hollow core requires the use of high-quality raw materials, such as high strength concrete and low relaxation steel wire/strand. The produced elements have high load resistances thanks to a low water/cement ratio of concrete from 0.32 to 0.38. Moisture, temperature and plasticity control are considered of paramount importance for the mixing plant in order to get excellent hollow core slab finishing: concrete quality consistency must be assured for every batch of concrete.
Solutions for best quality and performances
MCT Italy has decades of experience in the development of technologies meant to ensure the best quality concrete as well as high performances for the entire production process, through the automation of its plants and machines specifically designed for this type of business.
MCT batching plants are designed to fulfill the strict demands in terms of concrete consistency through their humidity and plasticity controls. The long experience in this field allowed MCT engineering departments to develop and test a range of solutions such as moisture detection on aggregates and concrete, materials dosing control, water trimming and all related automation controls by customized software platforms.
Concrete distribution systems by flying buckets, one of the fields where MCT plays a leading role with its technology in the precast business, are one of the most important tools to ensure the quickest, cleanest and safest delivery of concrete to the production machines.
The Concrete Distributor type CG specifically designed for extruders and slipformers feeding for hollow core and wall panel production is a customizable machine with buckets installed on dedicated cranes. A large number of options feature the Distributor type CG, which is designed upon the actual factory and type of production machine, to become the smartest component of the entire production through special tools such as concrete consumption and flow rate control and lifting devices for the production machine.
Thanks to MCT in-house software engineering departments, the control platform for these plants has been developed to have the entire system working in fully automatic mode, in order to avoid the requirement of human operators or ground means to feed the production machines: through integrated sensors, concrete is automatically ordered to the batching system. The CG Concrete Distributor positions itself at the flying bucket discharge in order to receive concrete and it follows the extruder or slipformer during its casting operation, automatically managing the concrete feeding to the production machine at the proper rate as required.
Prestressed concrete, and hollow core slabs in particular, offer exceptional structural efficiency.
Efficiency & Sustainability Long spans and shallow units allow for low material usage and better use of space within buildings.
Hollow core is extremely durable, retaining its structural capacity for a lifespan of 100 years or more. Production of elements in a controlled factory environment reduces waste, noise and emissions. Hollow core slabs contribute to the thermal mass of a building, and innovations enable reductions in the energy used for air conditioning.
CONTACT
MCT Italy S.r.l.
Via Perugia 105
06084 Bettona (Perugia)/Italy
+39 075 988551