Dicad
Strakon 2016: Designing more efficiently in 2D, 3D and BIM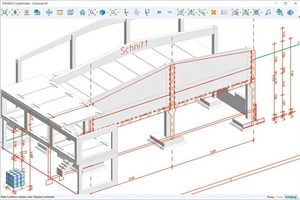 Figure: Dicad
Linking DWG, PDF or 2D elements to the 3D model makes it possible to coordinate various construction trades
Figure: Dicad
Dicad based in Cologne, Germany, has been a market leader in reinforcement planning and design for several decades. The new 2016 version of its Strakon CAD package places additional emphasis on 3D structural design. New features for three-dimensional design and processing ensure streamlined workflows that result in more cost-efficient planning and design processes in building, commercial and industrial construction. Thus, this industry-specific CAD software for structural engineering, reinforcement and precast design further expands the field of 3D to include a model-based approach such as Building Information Modeling (BIM). At the same time, Strakon 2016 combines 2D with 3D CAD functionalities whilst still providing users with the freedom to work based purely on drawings, to rely exclusively on 3D, or to use a combination of 2D and 3D features.
The new sweep feature included in the Strakon package offers an amazingly fast way of creating even very complex 3D objects, enabling users to move self-created or imported outlines along a predefined 3D path. This approach makes it possible to generate structural components in sophisticated geometries. The program also permits the design of sandwich wall elements with varying cross-sections. A completely new feature of the software is the 3D staircase module for straight, L- or U-shaped reinforced concrete staircases with various distortion modes. The parameterized 3D stair model enables subsequent modifications or corrections to be made automatically in the stair dialog window. Furthermore, the stairway plan module generates shop drawings of stairs, complete with dimensions and designations. Likewise, the input of 3D structural components has been improved so that components can be integrated freely in the defined space. For this purpose, flex components or 3D components can be turned into their correct position using the cursor and can be copied several times and (if required) rotated in a single work step. This method enables more convenient insertion of structural components in "oblique" positions, such as purlins for gabled or single-pitched roofs. Also, the new local reference grid supports the design of inclined and oblique objects in combination with the automated snap-to-grid feature that makes it easier to align flex components with the "oblique" local reference grid and to process them.
More convenient 3D input and processing
Apart from using the standard floor functionalities, it is now possible to generate and save floor slabs as 3D flex components directly in the plan. Compared to standard floors, this method provides the advantage that the flex component floor can be processed and analyzed directly in the CubeViewer, the central 3D input and editing environment.
When generating flex components, existing 2D elements such as lines or circles can also be used as 3D design aids. Furthermore, flex components can now be inserted directly into the model in CubeViewer for analysis and subtraction to enable quick model adjustments and thus provide benefits with respect to the design of openings and block-outs, which are usually subject to frequent changes. This workflow provides users with a quick overview of structural components and openings directly in the model, in lists or through 3D transfer to other CAD or ERP systems. Identical components can also be adjusted simultaneously in a single editing step. To make 3D input and processing more convenient, the performance of Strakon and of the proprietary 3D computation module has been enhanced. As a result, program performance increased significantly in the processing of complex 3D models that include a large number of flex components, 3D embedded parts or model references.
DWG and PDF import merges 2D and 3D worlds
The new version makes it possible to import DWG or PDF files, 2D plans or 2D objects into the model space within CubeViewer for use as a template or for monitoring or illustration purposes. This combination of DWG, PDF or 2D elements with the 3D model enables, for example, coordination of individual construction trades or the design of 3D objects on the basis of existing 2D plans. Users are now able to align the openings planned by the building services designer with their own 3D model and to check them for potential clashes with structurally relevant components, or to use 2D architectural drawings as templates for 3D design. Yet the package also includes a large number of improvements in the 2D field, including a completely revised dimensioning function.
Strakon 2016 also includes several new options, such as diverting placed reinforcement and "from-to" placement in two directions, that complement the previous 3D reinforcement design functionalities. Since the reinforcement viewer is permanently open, users are able to continuously monitor 3D input and immediately identify the effects of any reinforcement adjustment on the model. Furthermore, areas with crosswise reinforcement can now be inserted in a single work step. In oblique reinforcement areas, the positioning of the marking line is determined using an angle so that this line can be placed with pinpoint precision.