LAP
Setup control improves production documentation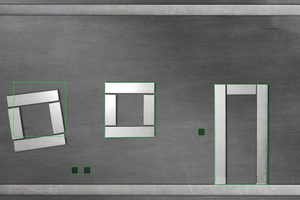 Figure: LAP
The DTEC-Pro camera system detects positioning errors prior to pouring the concrete – Laser outlines drawn in the control image make them visible
Figure: LAP
LAP has added new features for camera-based quality assurance to its laser projection system. With the DTEC-Pro camera system, live images can be created at the touch of a button and stored in a database, amongst others, for production documentation. Especially for companies with high documentation requirements, the integration of camera systems opens up additional potential for quality assurance in precast concrete production.
Position check before concrete casting
The DTEC-Pro camera system captures the entire form setup prior to concrete casting. The correct positions of all elements can thus be checked and possible positioning errors can be detected before pouring the concrete. For this purpose, the camera system generates high-contrast live images in black and white. Even drawn-in laser projection outlines can be superimposed on the images. This virtual projection not only enables documentation of the actual status, but also a comparison of how work was done according to the projected contours.
Detailed documentation
The additional option of the superimposed laser projection contour allows detailed documentation. The images can be saved in folders or directly in compatible database systems. And so, the images are available at any time for production documentation and complaints management. Image capture happens on request automatically when the projection is switched (in layer change). Operators can also manually capture images, by mouse click in the Pro-Soft software or by remote control. In this way, users receive proof at the touch of a button that all work steps have been carried out correctly.
Double production safety
CAD-Pro laser projection systems already offer decisive advantages in precast concrete production, such as process acceleration and the avoidance of errors and consequently of rejects. Camera systems integrated into existing or new laser projection systems from LAP can create additional process reliability for precast plants and support them in ensuring component quality.
A software update is enough
No additional software is required for the integration of the camera system. All camera functions are supported by the current Pro-Soft version. DTEC-Pro can be easily added to existing or new laser projection systems from LAP. For existing CAD-Pro systems, a software update is all that is required.
CONTACT
LAP GmbH Laser Applikationen
Zeppelinstr. 23
21337 Lüneburg/Germany
+49 4131 9511-95