Monday, 15th November → Innovation workshop (1)
'Salt and Pepper' to solve todays and future challenges of precast manufacturers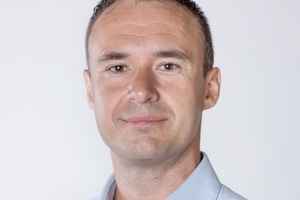 Dr. Markus Müller
Civil Engineer, made his PhD in the field of Building Material Research at the Bauhaus-University Weimar/DE. He holds an MBA from ETH Zurich/CH. Worked as researcher in the concrete industry, before he started at Sika in Zurich in 2009. In his functions as Corporate Product Engineer and Market Development Manager Sika Services AG Markus provides global technical support and business development in the fields of gypsum and dry-mortar additives and concrete admixtures.
Concrete producers are challenged every day to increase production efficiency, to find solutions for raw materials scarcity and quality (cement, sands), for environmental protection and for the workers safety. Global megatrends like urbanization, digitalization, and sustainability are both an opportunity and a challenge for the concrete industry.
For over 110 years, Sika has been developing and producing high quality, innovative technologies for concrete. Sika, a full range supplier, meets the diverse complexity of the entire precast concrete element production and construction process with solutions for many of the requirements. Next to admixtures Sika offers a large variety of products improving quality and efficiency of the production process, such as products for formwork preparation, for repair and protection as well as for sealing and bonding. Sustainable development is closely linked to Sika's innovation strategy, for both buildings and industrial applications.  Sika's aim is to increase sustainability by improving energy and material efficiency, and to continue its efforts to reduce the consumption of resources, both in the manufacture of products and for the users.
Innovative Admixture Solutions
Precast concrete elements are produced with high requirements on quality and durability. The production needs to be highly efficient and the precast manufacturer's aim is to continuously increase output with constant quality. This is especially true for the high surface requirements which is the calling card of the producer. Advanced concrete technology and suitable admixture application contribute significantly to the fulfilment of these goals.
Bio-based Superplasticizer
By using a superplasticizer, it is possible to establish a concrete mix design with an optimal amount of total binder, an optimized water-cement ratio, a desired fresh consistency, higher strengths and improved durability of the hardened concrete. Superplasticizers also help to reduce the environmental impact of concrete, by reducing energy or water consumption, or being compatible with recycled aggregates or low clinker cements. This is the case with the Sika ViscoCrete range of products based on polycarboxylate ether (PCE) technology. Nowadays, superplasticizers are mainly made from crude oil-based raw materials. Sika is the first company to produce a superplasticizer from bio-based monomers and to launch it on the market. As a result, over 85% of the previously crude oil-based raw materials are replaced by raw materials that are obtained from agricultural by-products. In addition to the ecological advantages, the bio-based superplasticizer also has excellent concrete technology properties such as a strong water reduction and robust fresh concrete behaviour. Even if concrete admixtures only have a small mass fraction of few kg/m3, the new polymer, added in optimized concrete mix design and combined with other low CO2 and sustainable compounds, contributes to a new way of thinking for concrete.
Hardening Accelerators
The production of concrete elements such as tunnel segments combines the challenge of high early strength and highest requirements regarding durability. Strength development is usually secured by utilization of heat or steam curing which can be contradictory to durability, if the concrete core temperature is too high. The implementation of optimized concrete mix designs in combination with innovative admixture technologies can reduce or eliminate heat and steam curing. SikaRapid hardening accelerators increase the performance by enhancing both, early strength and durability. Early and final strength requirements are attained, and the durability of tunnel segments is improved as the concrete peak temperature is reduced. It also enables to increase productivity and decrease operational costs and carbon footprint.
EHS-friendly Mold Release Agents
A challenge of the concrete construction process is to prevent adhesion of the hardened concrete to the formwork, thus ensuring easy cleaning and repeated reusability. This can be achieved with the application of the right mold release agent (MRA), which additionally leads to smooth and dense concrete surfaces, improving the durability as well as the aesthetical appearance of the concrete.
The latest innovation in the Sika Separol product range is a bio-based mold release agent made from renewable resources. Using a vegetable oil-based emulsion very thin MRA films can be applied in an extremely safe and easy way, meeting the latest ecological, health and safety requirements without compromising on performance. Longer service life of the forms and void-free concrete surfaces can be provided for a wide range of applications, including various mould materials, (incl. steel, wood, plastic), all compaction types, horizontal and vertical applications.
Fibers for Concrete Reinforcement
There are multiple reasons for adding fibers in concrete. Fibers are used for shrinkage crack reduction, reducing dangerous spalling at high temperatures or for improving impact or abrasion resistance. Fibers can also partially or fully replace steel reinforcement. Different fiber types are used to deliver different performance requirements. Sika is a leader providing solutions for all requirements, including micro and macro fibers, polypropylene and steel fibers, and blends of fibers.
SikaFiber polypropylene macro-fibers are the ideal solution for partially or totally replacing bulky steel bar or mesh reinforcement, saving time and money in the construction process. These fibers not only improve safety, durability and serviceability of concrete, they also enhance the concrete performance. Sika's polypropylene fibers are easy to handle and easy to dose as they are added to the concrete during mixing process. The SikaFiber software is a powerful tool for calculating the optimum thickness, concrete grade and fiber dosage for a fiber-reinforced concrete slab on grade.
Shaping the Future of Building
Like any other business sector, the construction industry must adapt its productivity to meet higher demand caused by a growing population and urbanization. Work is increasingly moving away from the construction site and onto the factory floor, highlighting the process of industrialization currently underway in construction. Modular construction and 3D concrete printing are radically changing the way the building industry thinks.
Sika's entire know-how in digitalization and industrialization of concrete construction, built over decades, has been brought together in our 3D printing technology. The new expertise encompasses robotics, a process control system, an extrusion system, a new printable concrete technology and mix design. These newly formulated concretes allow for precise control of how the concrete printing behaves. Sika is the only company capable of supplying all the technologies required for industrial 3D concrete printing. With this technology, it is now possible to print concrete rapidly, efficiently, and very precisely allowing complex geometries to be realized in a short space of time. This advanced concrete printing technology offers a greater design flexibility where building processes can be optimized, saving time and money.