KLEIHUES/FBS
Rectangular concrete pipes for infrastructure duct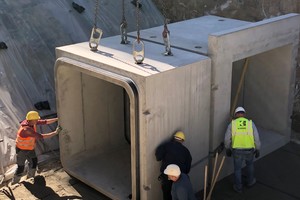 Figure: Kleihues/FBS
Kleihues Betonbauteile were commissioned with producing the elements for the 64 m long infrastructure duct section consisting of FBS-compliant reinforced-concrete pipes
Figure: Kleihues/FBS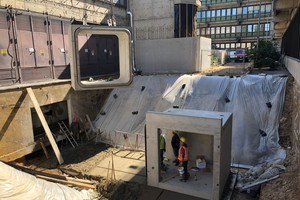 Figure: Kleihues/FBS
The 34 reinforced-concrete elements each weigh 8 to 22 metric tons
Figure: Kleihues/FBS
At the Melaten Campus of RWTH Aachen University, the Aachen branch of the North Rhine-Westphalianbuilding and real estate management agency plans to build a new center of digitally networked manufacturing, complete with installing the required infrastructure and clearing the Steinbachstrasse site. Rectangular reinforced-concrete elements and cast-in-place structures were specified for constructing this media duct.
The Tholen GmbH group of companies was commissioned with the civil and ducting works. Dipl.-Ing. Michael Tholen, the group's managing director and site manager, says: "For structural reasons, we opted for a 25 cm deep reinforced-concrete trough for load distribution purposes and for supporting the new media duct in order to provide the bearing capacity and stability subsequently required for heavy-load truck traffic. We then applied a 5 cm thick mortar layer on top of it, which supports the prefabricated rectangular profiles consisting of reinforced concrete. The 64 m long infrastructure duct is being installed in a just-in-time process involving 34 individual elements. We decided to procure FBS-compliant precast elements from Kleihues Betonbauteile GmbH & Co. KG based in Emsbüren because of their well-thought-out detailed design and collaborative project management approach. We will be installing the required cast-in-place portions ourselves."
Structural and hydraulic reasons
FBS-compliant rectangular reinforced-concrete pipes are suitable for the complete range of sewerage and wastewater treatment applications. Their cross-section can be minutely adjusted to the conditions prevailing at key routing points, such as confined spaces with limited heights and widths. Pipes of this type are used in many areas, including in the installation of wastewater, stormwater and combined sewers, stormwater interceptors and retention basins, pumping stations, fire water tanks, box culverts, and media and infrastructure ducts. Kleihues Betonbauteile GmbH & Co. KG based in Emsbüren were commissioned with producing the elements for the 64 m long infrastructure duct section consisting of FBS-compliant reinforced-concrete pipes with a rectangular cross-section and a checkable double-wedge slide seal.
Managing director Dipl.-Ing. Paul-Martin Großkopf comments: "We manufacture our products according to the FBS quality guidelines and let them cure in the mold. We use self-compacting concrete (SCC) to produce our precast elements in vertical molds. In this case, the 34 reinforced-concrete elements each weigh 8 to 22 metric tons. The anchor channels required for fastening the lines and cables at the top of the box profile are fixed in the mold and directly embedded in the concrete during pouring. The elements then typically require a curing time of about eight to ten hours, followed by measuring concrete strength applying a non-destructive method. In the next step, the elements can be demolded and quality-controlled at the precast plant for their correct shape and appearance. They are then put to interim storage and delivered to the job site just in time."
CONTACT
Kleihues Betonbauteile
GmbH & Co. KG
Siemensstr. 21
48488 Emsbüren/Germany
+49 5903 9303-0