Wacker Neuson/Farus
Project management software for reliability and continuity in sales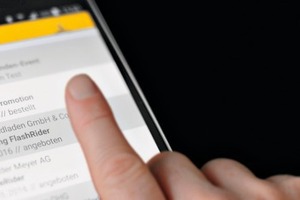 Figure: Farus
The cross-platform CRM software is especially popular with the field staff of Wacker Neuson, since it can also be operated offline and minimizes back office time
Figure: Farus
"Long-term relations with our customers and trust in our reliability and the reliability of our products are of enormous importance in our business," says Markus Martin, Managing Director of Wacker-Werke. Wacker-Werke, under the brand name Wacker Neuson concrete solutions, are a central service provider in concrete matters at the Wacker-Neuson group," continues Martin. "Because time and again we must do justice to the trust our customers place in us."
Construction projects with long lead times as well as very complex and challenging technical projects characterize the work of the teams at Wacker Neuson concrete solutions. Added to this is the fact that our Sales staff and specialists work worldwide at home and abroad. "Our products, qualifications, and not least processes continuously undergo further development in our business. The introduction of a suitable sales software tool that can be easily integrated in existing processes was only a logical step towards that end," says Martin.
All data always up to date
"Sales software must most of all help the user. Then it will be accepted by the team and function as a motor for our sales projects," supplements Dr. Richard Schulze of Farus ICT GmbH, the manufacturer of PRMPT CRM Software. As a former managing director of Wacker Neuson concrete solutions and predecessor of Martin, he knows the business of the concrete experts. The sales projects at Wacker Neuson concrete solutions, according to Schulze, often run over several months. This means that nothing happens for a while and then everything must happen very fast again. "Processes taking place among our staff in the back office or in the field must be passed on to colleagues. For many parallel sales projects, this is reliably possible only with good CRM software," explains Schulze.
PRMPT was introduced at Wacker Neuson concrete solutions three years ago. Until then, sales procedures were strongly characterized by the individual working methods of individual staff. "The task to keep all data up to date was enormous and despite our best efforts, requests were regularly voiced to be kept informed on a regular basis," says Managing Director Martin. "With PRMPT we were able to completely solve this problem and, at the same time, we have a very good overview of all sales processes."
Helmut Wockenfuß, a member of the field staff at Wacker-Werke, adds: "With PRMPT we know at all times what is happening with our customers in sales matters and what needs to be done, even when we are away from the office."
Easy to operate
Dennis Hoos, Sales Engineer at Wacker Neuson concrete solutions and Key User for PRMPT, talks about the introduction: "The technical introduction of PRMPT was absolutely smooth. Some of our colleagues had been in business for twenty or thirty years. To convince them of the advantages of the new mode of operation was, of course, not quite simple. The simple operation of PRMPT was naturally of great help here – as well as the fact that its benefits are immediately apparent. All sales processes were processed with PRMPT after only a short introductory time."
And Martin adds: "In the meantime, one of our field staff has retired. His work was able to be smoothly continued by another colleague. Without the CRM software that would not have been possible. Our customers are, of course, aware of such reliability and continuity."