Vollert Anlagenbau
Nuspl becomes Vollert
Figure: Vollert
Nuspl will become Vollert – but the contact partners will be the same. The reliable Nuspl team for marketing and technical support will in future service customers from Weinsberg. Hans-Jörg Vollert, Managing Director of Vollert Anlagenbau GmbH (right) and Alexander Kaspar, Head of Special Form Construction
Figure: Vollert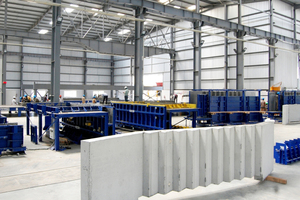 Figure: Vollert
Nuspl's entire product range and Nuspl's know-how of the special formwork  specialists …
Figure: Vollert
Nuspl Schalungsbau and Vollert Anlagenbau will pool their expertise even more effectively in the future. The company Nuspl Schalungsbau GmbH + Co. KG, since 2012 already part of the Vollert Group, will be integrated with its entire range of formwork products into Vollert Anlagenbau GmbH on 1 October 2917. Customer service, development and production will in the future also take place under one roof at Vollert's headquarters in Weinsberg, Germany.
With the integration of Nuspl's formwork program, Vollert pursues a stronger orientation towards the international market for this product portfolio. In Germany, Nuspl has been known for its know-how in form pallets, tilting tables, battery, beam and special forms for more than 50 years – but beyond the country's borders hardly at all. "Our international customers are often confused when we deliver plant components and forms from Nuspl," explains Managing Director Hans-Jörg Vollert. In India, the two brands have been manufacturing form and tilting tables jointly under the Vollert brand for a long time. With more than 350 precast plants and subsidiaries in Asia and South America, Vollert numbers internationally among the industry's technology and innovation leaders. Plant, machinery and engineering solutions from Vollert are much sought after worldwide. "We want to strengthen the synergies in marketing and to expand internationally by presenting ourselves jointly under the umbrella brand of Vollert. For this, Nuspl Schalungsbau will be absorbed to 100 % by Vollert Anlagenbau GmbH," says Hans-Jörg Vollert. Vollert's international marketing network and the company's know-how of turnkey solutions for the precast concrete industry offers an ideal basis for reaching the growth targets.
Time-tested Nuspl team – expands service
Nuspl's customers will profit from the merger of the brands. "Because of the integration of the product spectrum, the entire portfolio will be retained and the trusted customer contacts will also not change," describes Alexander Kaspar, Head of Special Formwork Construction, who together with the reliable contact partners from sales and technical support will continue to be responsible for the formwork portfolio. Customer care will from now on be provided from Weinsberg only. "Through the integration of customer consultants and engineering specialists at our corporate headquarters, we ensure continuation of the established business relations Nuspl has formed with its customers in the course of many years. That is important to us," says Hans-Jörg Vollert.
In addition, in the future, there will be the option to access Vollert's entire service portfolio. That includes, apart from a worldwide network also maintenance and service, inspection and repair of the systems, modernization projects as well as the comprehensive spare parts service with long-time availability.