WAMGROUP
New technology center opened on the company's anniversary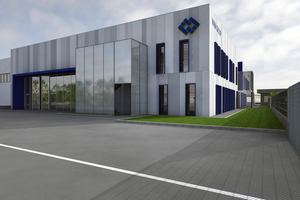 Figure: WAMGroup
The WAMGroup celebrated its 50th company anniversary at its headquarters in Ponte Motta di Cavezzo, near Modena, Italy, to include opening of its new Technology Center
Figure: WAMGroup
The WAMGroup recently celebrated its 50th company anniversary with guests from research, politics and the economy at its headquarters in in Ponte Motta di Cavezzo, near Modena, Italy.
Among the invited guests were many prominent personalities from the region and beyond, such as the President of the region Emilia-Romagna, the mayor of Modena and the Modenese Lowland as well as the Bishop of Carpi. Also present were business partners from around the world to celebrate the round birthday of the WAMGroup.
But the 50th anniversary of the company was not the only reason for the invitation. WAMGroup also celebrated the opening of its new Technology Center – with a research laboratory, a training center and a permanent exhibition at WAMGroup headquarters. The center offers comprehensive infrastructure for investigating and developing new industrial products. Main focal points of research there include dust filtration, solid-liquid separation in animal husbandry and in other industries – as well as effluent treatment and hydropower.
Academic symposium in the training center
The training center is intended to become an international hub for research and development as well as a meeting point for training young specialists from all over the world. In his welcoming address, WAMGroup President Vainer Marchesini emphasized the importance of training young people to ensure them and the company a successful future in an increasingly global world.
The traditional cutting of the opening ribbon was followed by an academic symposium on a number of current scientific topics. In addition, research partners from universities spoke in particular about technological innovations in environmental protection: e.g., application possibilities of nanofiber material developed by the WAMGroup in various industrial sectors.