DSI/Contec
New joint sealing systems for concrete construction
Figure: DSI/Niederlassung Porta Westfalica
Dywidag-Systems International GmbH (DSI) in its business segment Contec offers several sealing system for concrete construction
Figure: DSI/Niederlassung Porta Westfalica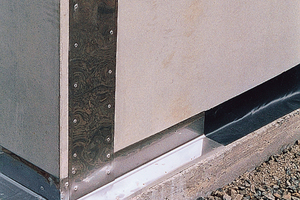 Figure: DSI/Niederlassung Porta Westfalica
Sealing a precast wall with system elements
Figure: DSI/Niederlassung Porta Westfalica
Watertight joint sealing with suitable profiled sections are an important topic in concrete construction when precast double walls are used and at interfaces between precast double walls and in-situ concrete components. The safety requirements that must be met for sealing the joints of precast double walls cannot be high enough.
The company Dywidag-Systems International GmbH (DSI), in its business segment Contec Sealing Systems, offers three different systems for meeting these requirements, while taking into consideration the working methods of conventional construction companies.
Joint sealing profiles for precast double walls
The FTS/FTE, as vertical butt-joint profile from the Contaflex system, is a galvanized, folded-steel sheet, both sides of which are coated with polymer bitumen over their entire surface. The butt-joint profiles are continuously installed during erection of the precast double walls. The sealing profiles, attached to the wall joint of the elements and fixed in place with knock-in anchors, will then be located on the inner side of the double wall. A borehole grid in the joint profile facilitates installation and helps prevent errors in execution. The Contaflex CF and/or CFR joint sealing sheet and the E-65 corner sealing sheet  are used in horizontal construction joints. Special profiled sections for inner and outer corners, as well as suitable knock-in anchors and drive clamps complete the system that is optimally suited for double walls of 25 or 30 cm.
The Contaflexactiv system uses a different approach. The CFS/CFE joint sealing profiles consist of galvanized folded profiles coated with bentonite, with excellent sealing effect and ease of handling during installation and in providing the butt joints. The water that penetrates along the profile contacts the coating and activates the swellable bentonite to form a highly impervious barrier. The joint profiles are here also continuously installed during erection of the precast double walls. The butt joints of the joint metal sheets are available in 1.25 m and 1.5 m length. As active butt joints, they have overlaps of 10 cm and are fixed in place with knock-in clamps. Floor heights of up to 2.90 m are simple to execute with the standard program. The width of the Contaflexactiv joint sheets is dimensioned for an ideal ratio between the width of the concrete core and the height of the joint sheet. A special folded joint sheet  for inner and outer edges is available. Contaflexactiv joint sheets with stand legsare used in the connecting joints between floor and wall. The angled stand leg ensures a straight joint sheet, to aid careful pouring and compacting the core concrete.
Sealing system for precast concrete walls
Swelltite 3000 is another system for sealing horizontal and vertical construction and butt joints in waterproof concrete structures against water with or without hydrostatic pressure, as encountered in precast and double-wall constructions. Swelltite is attached to the outer side of double walls, where it develops its sealing effect. The bentonite, used as sealing material, here provides the system with a permanently active sweling joint seal. The ready-to-install HDPE bentonite film strips (delivered as roll material) are especially flexible to use. Other system components are Bentoseal spackle and profiled cover sections made of stainless steel or PVC with stainless steel knock-in anchors.
Where joint profiles of standard dimensions cannot be applied due to a special construction measure, DSI its Business Segment Contec Sealing Systems offers, in addition, project-related dimensions for such construction. All seals were tested as system by recognized testing bodies and were issued national technical approvals (abP). In addition, numerous inter-system tests were conducted by materials -testing institutes.