Schlüsselbauer
New developments in concrete cylinder pipe production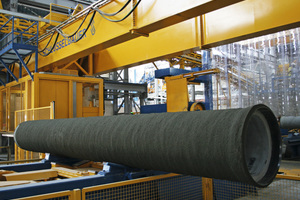 Figure: Schlüsselbauer Technology
Prestressed PCCP concrete cylinder pipes with steel cylinders on the inside are absolutely impervious and suitable for operating pressures of up to 25 bar
Figure: Schlüsselbauer Technology
The use of concrete pipes with a steel cylinder on the inside and wire prestressing has been time-tested worldwide for decades, while the production engineering has been hardly developed over a longer period of time. In 2004, Schlüsselbauer outfitted its pressure pipe production for the first time with new production engineering. Since then, a wide range of components were continuously further or newly developed. In this connection, the processing speed of the machine for prestressing and winding the wire was, for example, greatly increased. In addition, the welding, testing and handling components were further developed, markedly increasing in this way not only the production capacity over older machines.
Suitable up to 25 bar
With the new developments, moreover, an entirely new quality level has been achieved in terms of product quality and continuous testing – for example, in the production of tested, impervious steel cylinders. This innovative general concept was most recently implemented in the Sultanate of Oman. According to the manufacturer, this is the most modern pipe production plant in the territory where, apart from concrete pipes and rectangular profiles for gravity sewers, concrete cylinder pipes size DN600 to DN1,400 are manufactured.