Alitinform
Largest Russian trade show and conference to be held in November in Moscow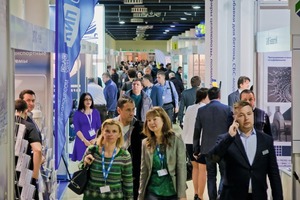 Figure: Alitinform
According to the organizer, 160 exhibitors and about 6,500 visitors attended the previous PreCast Russia edition
Figure: Alitinform
The PreCast Russia trade show and conference has been constantly growing over the past few years. Despite the wide range of global economic difficulties, this event is testimony to the continued interest in latest advancements in the supplier industry and in most current research findings.
For this year's edition, which will be held from 29 November to 1 December at the Moscow Expocenter, the event organizers, Alitinform and the Russian Association of Construction Contractors, are again expecting 160 exhibitors, about 6,500 visitors and 500 attendees of the conference to be held simultaneously with the trade show. Supporters of the event include the Russian Ministries of Construction and of Industry and Commerce, the Moscow Municipal Administration, and the International Federation of Structural Concrete (fib). The BFT International industry magazine will again be the exclusive international media partner.
Comprehensive market ­overview
The PreCast trade show and conference provides a comprehensive overview of latest trends and developments in the construction industry in Russia and neighboring Eastern European countries as well as in the international supplier industry. It captures the entire process from academic research and development to hands-on application, from the design stage and selection of materials to the completed project.
Trade show and conference visitors will be provided with information on equipment for the manufacture of concrete products and precast elements, concrete mixers and mixer components, additives and pigments, rebar processing machinery, automation and control systems, equipment for product handling at the factory, and systems for the storage and processing of raw materials.
High-profile contacts
The PreCast trade show and conference is a regular forum for decision makers from producers and suppliers to meet, not least because of the central event location in Moscow, the Russian capital, where the majority of Russian and internationally active construction companies operate subsidiaries. Trade show, conference and the attractive accompanying program provide a relaxed backdrop to industry and business talks.